Zig Zag
: The Surprising Path to Greater Creativity
Keith Sawyer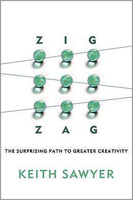 Format:
Hardcover, 288pp.
ISBN:
9781118297704
Publisher:
Jossey-Bass
Pub. Date:
March 18, 2013
Average Customer Review:

For Bulk Orders Call: 626-441-2024

Description and Reviews
From
The Publisher:
Creativity doesn't come from one brilliant idea; it's a way of life. Using Sawyer's techniques, new ideas come every day, leading you always further down the zig-zag path to greater creativity. Try these simple techniques, one for each of Sawyer's eight steps.
Find the right question
If you're stumped, it's often because you're asking the wrong question. Maybe your question is too narrow and focused, and you just need to think bigger. For example, instead of asking yourself "Should I repair my old car, or buy a new one?" try asking "Can I get a job within walking distance of home?" or "Can I move closer to public transportation?"
Prepare your mind
The most creative people are voracious learners; they dabble in things they know nothing about. Teach yourself something about weaponry, hypnosis, glass blowing, auto repair, Sufi mysticism…
Be aware
Research shows that the most creative people are more likely talk to lots of different people. So try this: Before you attend your next party or social event, choose a color. Then at the event, make a point of meeting and chatting with anyone who's wearing that color.
Free your mind
When you're facing a creative challenge, try to imagine it as a problem in a very different world, like Dentistry; Lawn care; Furniture design; Prison; The Circus. How would your problem look in that world? How would you try to solve it?
Generate ideas
You can increase your ability to generate good ideas by practicing idea generation every day in simple tasks. For example, make a long list of specific facts about how the world would be different: If gravity stopped for one second each day? If there were five sexes? Come up with your own idea challenges as you go through your day. In the kitchen: What if my refrigerator had 20 shelves? Preparing for bed at night: What if people could sleep standing up?
Combine ideas
The best insights come from combining ideas that are completely unrelated. Take out paper and pencil and sketch a piece of furniture that is also a kind of fruit; or, a lampshade that is also a kind of book; or, just pick two words at random by closing your eyes and pointing at different pages in a book, and invent a combination.
Make ideas even better
Once you have a few ideas, take each one of them (even the ones that aren't so great) and list at least three benefits of that idea, and then list at least three practical steps you would have to take to implement the idea. This simple technique often helps you think of ways to make the ideas even better.
Get your ideas into the world
Buy a stack of ten magazines. (Or take some of those old magazines in your dentist's waiting room) Clip out any photos that seem related to your problem, and keep going until you have 50 photos. Use a glue stick and make a collage by sticking them onto a large piece of poster board. Keep the collage near your desk for a couple of weeks, and make sure to look at it each day.
"No matter what kind of creativity I studied, the process was the same. Creativity did not descend like a bolt of lightning that lit up the world in a single brilliant flash. It came in tiny steps, bits of insight, and incremental changes. Zigs and zags. When people followed those zigs and zags, ideas and revelations started flowing." —From the Introduction
Can you be more creative? Absolutely, and Zig Zag shows you how. Dr. Keith Sawyer, a psychologist, professor, jazz pianist, and former video game designer, is one of the world's leading experts on creativity. To develop his accessible eight-step creativity program, Sawyer explored the lives of exceptional creators, tapped into the back stories of world-changing innovations, and analyzed laboratory experiments that delved deeply into the everyday creativity that all of us share. He discovered many surprising secrets of highly creative people—how they question assumptions when presented with new problems, how they get beyond creative blocks, and above all, how they negotiate the many twists and turns along the way.
Zig Zag draws on these secrets to provide an eight-step program that will help you achieve greater creativity—whether you're looking for new ways to excel at your job, build a fulfilling career, develop a more deeply satisfying personal life, find fresh, clever, permanent solutions to nagging problems, make better decisions, bring about change in your community, and more.
Zig Zag provides an unprecedented collection of more than one hundred practical, hands-on activities that will keep you moving down the creative path. These research-based techniques help you ask deeper questions, see the world in new ways, and develop novel ideas. Zig Zag is your guidebook to the surprising, unpredictable, and fascinating journey that leads to greater creativity.

Reviews
"Finally! A creativity advice book that's grounded in scientific research."
—Mihaly Csikszentmihalyi, author, Flow: The Psychology of Optimal Experience
"Zig Zag is the most fun and most useful creativity book I have ever read. Keith Sawyer's gem sweeps you up with a host of great stories, quizzes, and exercises and teaches you one way after the other to be more creative."
—Robert I. Sutton, professor of Management Science, Stanford University; author, Good Boss, Bad Boss and The No Asshole Rule
"In geometry the shortest distance between two points is a straight line. But in creative pursuits, Zig Zag shows us, it's anything but. Keith Sawyer is the most creative person writing about creativity that I know."
—Robert Mankoff, cartoon editor, The New Yorker; author, The Naked Cartoonist: A New Way to Enhance Your Creativity
"Creativity is essential in our journey to the future, and this gem of a book helps each of us on the way."
—Tim Brown, chief executive officer and president, IDEO; author, Change by Design: How Design Thinking Transforms Organizations and Inspires Innovation
"Keith Sawyer is the best combination of a brilliant creativity researcher and storyteller around."
—Peter Sims, author, Little Bets: How Breakthrough Ideas Emerge from Small Discoveries
"Zig Zag reveals the true nature of the creative process: improvisational, surprising, with unexpected twists and turns. The book is filled with hands-on activities that help you manage that process and keep it moving forward to a successful creative outcome."
—Josh Linkner, author, Disciplined Dreaming: A Proven System to Drive Breakthrough Creativity

About the Author
Keith Sawyer
, PhD, is associate professor of psychology, education, and business at Washington University in St. Louis. An accomplished jazz pianist and former video game designer for Atari, he has published widely on the topics of collaboration and creativity. His book Group Genius won awards from Library Journal and (800) CEO-READ and has been translated into many languages. He is the proud owner of a collection of vintage Grateful Dead bootleg tapes, his childhood piano teacher's old (but working) accordion, and a 1982 BMW motorcycle (also working). To learn more, visit keithsawyer.com.