Rebooting Work
: Transform How You Work in the Age of Entrepreneurship
Maynard Webb and Carlye Adler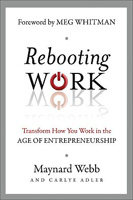 Format:
Hardcover, 224pp.
ISBN:
9781118226155
Publisher:
Jossey-Bass
Pub. Date:
January 22, 2013
Average Customer Review:

For Bulk Orders Call: 626-441-2024

Description and Reviews
From
The Publisher:
"Maynard Webb's old-school belief in working hard and shooting for the stars, combined with his understanding of cutting-edge technology, is the playbook for winning at whatever you do." —Jed York, CEO, San Francisco 49ers
Maynard Webb has always been the go-to guy when Silicon Valley companies have tough problems. Whether revamping eBay's crashing servers (transforming a potential technological disaster into a competitive strength) or investing in emerging technology start-ups, Webb brings strategic and operational savvy to every issue and venture. In his first book, Webb brings this same focus to tackle outdated models of work, created a century ago, which no longer sync up with either individual or employers' needs.
Through a unique framework that demonstrates how we can leverage technology to create better job opportunities and foster more balanced lives, Webb identifies four different mindsets around work—the Company Man or Woman, CEO of Your Own Destiny, the Disenchanted Employee, and the Aspiring Entrepreneur—which distinguish individuals who are self-motivated from those who are waiting to be discovered. By better understanding which of these mindsets best represents your own attitude and how to adapt and move from one frame to another, you'll gain the tools to become more self-actualized and ultimately more fulfilled in your career.
In identifying a paradigm shift that is already under way, Webb demonstrates clearly how everyone—employers and employees—can harness technology to become more productive at work, embrace personal happiness, and even spend more time with our families. With personalized worksheets and empowering action-oriented advice, Rebooting Work will help anyone reap the benefits of reimagining the way we approach work today.

Reviews
"Maynard Webb is one of those rare individuals who sees tremendous possibility where others see problems. In Rebooting Work, he applies to individuals the same intuition and expertise that helped leading companies embrace technology and prosper. This is a terrific guide for anyone who wants not just a fulfilling career but also a fulfilling life."
—Howard Schultz, chairman, president, and CEO, Starbucks Coffee Company
"The world is changing faster than ever. The social, mobile, and cloud technologies that are being rapidly adopted provide amazing new opportunities to engage with customers and employees, and fundamentally change the way we need to manage our companies. Rebooting Work outlines how tomorrow's successful companies must completely rethink how they work to engage and motivate people."
—Marc Benioff, chairman and CEO, salesforce.com; author, Behind the Cloud
"Rebooting Work covers a fascinating topic—the future of work—and nobody is better qualified to write about it than legendary Silicon Valley company builder Maynard Webb."
—Marc Andreessen, cofounder and general partner, Andreessen Horowitz; cofounder, Netscape Communications
"Maynard is one of the most effective leaders I have ever worked with. He knows how to blend innovation with execution at scale. Rebooting Work shares the practical insights and lessons from his experience."
—John Donahoe, president and CEO, eBay
"In order to succeed you must have the courage to take risks. Rebooting Work outlines the reasons to choose change and gives readers a foundation for success."
—Brad Smith, president and CEO, Intuit

About the Authors
Maynard Webb
is the chairman (and former CEO) of LiveOps and a board member at both salesforce.com and Yahoo! Previously he was the COO of eBay. He is the founder of the Webb Investment Network (WIN) as well as the Webb Family Foundation. He lives with his wife, Irene, in Silicon Valley. For more information, please visit www.rebootingwork.com.
Carlye Adler
is an award-winning journalist and bestselling author. She is co- author, with Marc Benioff, of Behind the Cloud and The Business of Changing the World, as well as coauthor of The Dragonfly Effect. She lives in New York. For more information, please visit www.carlyeadler.com.