When
: The Art of Perfect Timing
Stuart Albert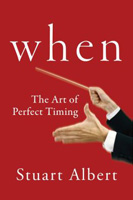 Format:
Hardcover, 304pp.
ISBN:
9781118226117
Publisher:
Jossey-Bass
Pub. Date:
August 26, 2013
Average Customer Review:

For Bulk Orders Call: 626-441-2024

Description and Reviews
From
The Publisher:
An elegant and counterintuitive guide to achieving perfect timing
Timing is everything. Whether we are making strategic business decisions or the smallest personal choice, we must decide not only what to do, but when to do it. Act too early—or too late—and the results can be disastrous. Based on a 20-year investigation into more than 2,000 timing issues and errors, When presents a single and practical approach for dealing with timing in life and business. Good timing, Albert argues, is not just a matter of luck, intuition, or past experience—all of which may be unreliable—but a skill. He describes that skill and details the tools and methods needed to conduct a successful timing analysis.
The book is the first to offer an efficient and comprehensive way to think through any timing issue
Filled with dozens of lively stories illustrating good and bad timing in all walks of life—business, warfare, medicine, sports, entertainment and the arts
Written by Stuart Albert, one of the foremost timing experts in the world and developer of the first practical, research-based method for turning the skill of timing into a competitive advantage
Engaging and counterintuitive, When will show everyone, regardless of the work they do, or the life they live, that "it's all in the timing."

Reviews
"This detail-rich, case-study-based volume is a truly unique addition to the business literature, and Albert's common-sense points will prove a boon to readers eager to make time count."
—Publisher's Weekly
"When is a brilliant analysis, full of practical implications, on a topic we all live with and take for granted, but don't know how to manage better. Stuart Albert deconstructs time in a useful manner that allows us to examine our own experience from a new perspective. Just when we thought there was nothing more to say about analyzing life and business, this book gives us a whole new dimension to think about.""
—Edgar Schein, professor emeritus, MIT Sloan School of Management
"As Homer said, it is the height of folly to be wise too late. When is right on time- wise, beautifully written, and immensely practical in today's hectic world. It would be unwise not to make the time to read it.""
—Ellen Langer, professor of psychology, Harvard, and author, Mindfulness
"Plenty of books report on the 'what' and the 'how' of business, but When takes up the third dimension not often recognized: timing. A business proposition can be too early- and is often too late. Getting the timing right is key, and Stuart Albert helps us do it systematically.""
—Jim Lawrence, chairman, Rothschild North America, and former vice chairman. General Mills
"By providing a process to examine all the elements of decision and a flow of each element in time, When transformed the way I look at decision-making. The process of determining the elements is already useful. Add to that an examination of temporal interaction and the result is a better decision. This is a technique worth learning."
—Alex Cirillo, Jr., vice president, retired, 3M
"Stuart Albert has spent a lifetime thinking about time, and When provides a fascinating glimpse at the structures that underlie questions of timing. How can we think systematically about sequences of events, major inflection points, the duration of parallel events, and speed of execution as we decide when to embark on a particular course of action? Rich with examples, When helps managers come to grips with many ways time and timing have an impact on everything we do. An exhilarating read!""
—Srilata Zaheer, Dean and Elmer L. Anderson Chair in Global Corporate Social Responsibility, Carlson School of Management, University of Minnesota

About the Author
Stuart Albert
is one of the foremost timing experts in the world. He is professor at the University of Minnesota's Carlson School of Management and has been a visiting scholar at Harvard and at M.I.T. The developer of a practical, research-based method for managing timing in business, Albert has worked with small and medium-sized companies, as well as large multi-nationals, to help executives better decide and manage issues of timing. His patent on the interpretation of movement in time was featured in the New York Times.

Table of Contents
| | | |
| --- | --- | --- |
| | | |
| | Preface | ix |
| | | |
| | Introduction | 1 |
| | | |
| 1 | Sequence | 25 |
| 2 | Temporal Punctuation | 47 |
| 3 | Interval and Duration | 79 |
| 4 | Rate | 109 |
| 5 | Shape | 129 |
| 6 | Polyphony | 155 |
| 7 | Using the Lenses: The Timing of Dissent | 191 |
| 8 | A Timing Analysis: Seven Steps | 215 |
| | Coda: Re-Imaging the World | 239 |
| | | |
| | Appendix: Temporal Architecture: Concept and Field of Inquiry | 247 |
| | Notes | 249 |
| | Acknowledgments | 263 |
| | About the Author | 267 |
| | Index | 269 |