Leadership Isn't For Cowards
: How to Drive Performance by Challenging People and Confronting Problems
Mike Staver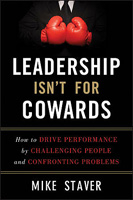 Format:
Hardcover, 240pp.
ISBN:
9781118176832
Publisher:
Wiley
Pub. Date:
June 26, 2012
Average Customer Review:

For Bulk Orders Call: 626-441-2024

Description and Reviews
From
The Publisher:
You are a leader. Maybe you lead a team of two or three people, a department, or even a company. Whatever the scope of your leadership, the pressure is on. You have been entrusted with the great responsibility of messing with people's lives. Every decision you make, regardless of whether it creates tremendous profits for your company, can breed discontent among your subordinates—which in turn, can spell your demise. Every day is a tightrope walk between fiscal results and their human consequences. Are you able to keep your balance?
Leadership Isn't for Cowards
offers straightforward, practical advice for leading courageously and driving performance—while also creating a great place to work. Courageous leadership means toughening your approach by being rigorous in the application of your values through the company culture. It means confronting and challenging people, and not letting them get away with being less than you know they can be. The manageable steps on the path to courageous leadership include:
Identifying your core values and evaluating the extent to which you are leading in alignment with them
Discovering where you are allowing circumstances to define you and limit your influence
Learning to overcome your own negativity by changing your external behaviors
Utilizing recognition and acknowledgement to elicit higher performance from your followers
With courageous leadership, you'll create a culture and a mind-set that encourages and demands excellence! Follow these steps to bring out the best in your employees and lead your organization to significant success.

Reviews
"Staver delivers practical and useful leadership advice that is profoundly helpful and thoroughly entertaining. His storytelling and ability to blend concise and actionable techniques to challenging situations help the reader connect immediately."
—BRUCE KLEIN, Senior VP U.S. Public Sector Theater, Cisco Systems
"This book will get you out of the weeds and cause you to step back and look at the big picture of your leadership style. It will increase your self-awareness of how others are truly reacting to your behavior. Most importantly, it will provide you with an action plan to make a difference in others' lives and build powerful loyalty that results in positive business outcomes and lasting relationships."
—PAM O'CONNOR, President and CEO, Leading Real Estate Companies of the World®
"Once again, Mike Staver has taken us to a unique place in the practice of management and leadership. Over the years, Mike has been able to get to the exact heart of every issue that he explores in his speeches and writings. He brings a unique perspective to issues like customer service, company focus, and numerous other topics. With his new book, Leadership Isn't for Cowards, he drives home the unique concept that managers/leaders are 'messing with people's lives.' I found that to be an interesting yet sobering thought. It has caused me to realize that it is not appropriate to try to lead by the seat of my pants. It takes a lot more thought and preparation. This new book contains some great tools to help me get the job done better."
—LARRY R. STEVENS, President and CEO, Med One Capital Inc.
"Mike Staver has an uncanny ability to get in your head and read your thoughts as a leader. He challenges you to look at who you are, who you THINK you are, and who you want to be. This book pushes you to have the courage to be an impactful and successful leader, while focusing on the 'must haves' in business AND the 'should haves.' This book can be career-changing to those leaders open to growth."
—CASI DiLEVA, Vice President, Licensed Banker, and Insurance Program Manager, UnionBanc Investment Services
"Leadership Isn't for Cowards puts leadership in the right perspective. The introduction about leadership is spot on and concurs with my experience. The book has forced me to answer important questions and to make subtle changes in my approach as a leader. I highly recommend you read this book regardless of whether you are in a leadership role or not. I found it enlightening as well as entertaining."
—HEINZ RUCH, President and CEO, Amplifon USA

About the Author
Mike Staver
is CEO of The Staver Group and provides keynote presentations, executive coaching, consulting, and workshops. His clients have included Leading Real Estate Companies of the World®, Cisco Systems Inc., Amplifon USA, Med One Capital, Inc., UnionBanc Investment Services, FOCUS Brands, U.S. Department of Defense, Allstate Financial Services, National Association of REALTORS®, Mayo Clinic, and more. His work has appeared in Bloomberg Businessweek, the Washington Post, Fox News Channel, USA Today, and T+D magazine.

Table of Contents
| | | |
| --- | --- | --- |
| | | |
| | Acknowledgments | ix |
| | | |
| | Section 1 YOU ARE MESSING WITH PEOPLE'S LIVES | |
| 1 | Do You Know What You Are Doing? | |
| 2 | How Much of an Impact Are You Really Having? | |
| 3 | Are You a Coward? | |
| 4 | Is Culture Overrated? | |
| | ATTACK | |
| | | |
| | Section 2 ACCEPT YOUR CIRCUMSTANCES | |
| 5 | How Great Is Denial? | |
| 6 | What Are You Pretending Not to Know? | |
| 7 | Are You Honest? | |
| 8 | What Is Real? | |
| 9 | Where Is Your Focus? | |
| | | |
| | Section 3 TAKE ACTION | |
| 10 | Are You Good at Analyzing? | |
| 11 | When Are You Ready? | |
| 12 | How Present Are You? | |
| 13 | Do You Remember a Time when You Hesitated and Lost? | |
| 14 | Are You In, or Aren't You? | |
| | | |
| | Section 4 TAKE RESPONSIBILITY | |
| 15 | Want to Responsibly Scare Some People? | |
| 16 | How Much Blame Can You Take? | |
| 17 | What Difference Do You Make? | |
| 18 | What Kinds of Responsibility Are You Taking? | |
| 19 | Are You Truly Free? | |
| | | |
| | Section 5 ACKNOWLEDGE PROGRESS | |
| 20 | How Goal-Driven Are You? | |
| 21 | Are You Too Harsh? | |
| 22 | Are You an Over-Recognizer? | |
| 23 | What, When, and How? | |
| 24 | Are You about Effort or Achievement? | |
| | | |
| | Section 6 COMMIT TO NEW HABITS | |
| 25 | Just How Much Accountability Can One Person Stand? | |
| 26 | Do You Need to Be Committed? | |
| 27 | Just How Different Are You? | |
| 28 | What's That Weight on Your Back? | |
| | | |
| | Section 7 KINDLE | |
| 29 | Is It Really Just an e-Reader? | |
| 30 | How Are You Feeling? | |
| 31 | Did You Seriously Think That Would Work? | |
| 32 | Do You Ever Notice? | |
| 33 | Ever Given Birth? | |
| | | |
| | Section 8 NOW WHAT? | |
| 34 | Do You Want To? | |
| 35 | Are You Willing? | |
| 36 | Can You Please Just Get On With It? | |
| | | |
| | Index | |