Make Up Your Mind
: A Decision Making Guide to Thinking Clearly and Choosing Wisely
Hal Mooz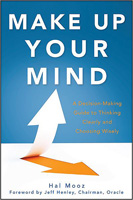 Format:
Hardcover, 192pp.
ISBN:
9781118172711
Publisher:
Wiley
Pub. Date:
February 14, 2012
Average Customer Review:

For Bulk Orders Call: 626-441-2024

Description and Reviews
From
The Publisher:
Why do people buy cars, electronics, and other expensive products that have received terrible reviews? Why would a president jeopardize his entire legacy by having an inappropriate relationship with an intern? Why would NASA ignore the advice of engineers, resulting in catastrophe for the Challenger and Columbia shuttle flights? Disastrous decisions are often made, and for nearly every poor choice, better alternatives have existed.
Make Up Your Mind
outlines author Hal Mooz's system for identifying those better alternatives and becoming Decision Fit. Decisions, good or bad, can have a significant effect on your future, your family's future, and your organization's future. Mooz's Decision Fitness approach consists of three decision-making models: the Decision Type Model, which characterizes what is at stake with any decision; the Decision Solution Model, which identifies the most suitable alternatives; and the Decision Judgment Model, which provides ten bases for judging suitable alternatives. These models guide your thinking to the most promising choice.
This step-by-step guide to exercising sound judgment includes critical advice, including how to:
Specify the decision and the context
Type the decision
Characterize the alternatives
Create alternatives and assess comparative information
Knowledgably select the right judgment basis
Skillfully apply the appropriate judgment process
Effectively manage power and peer pressure
Objectively make the judgment and decisively implement the action
People make hundreds of thousands of decisions in a lifetime, and for each one,
Make Up Your Mind
provides the clarity and the techniques to employ good judgment in your own life and to influence the decision making of others that you mentor. Here is the key to becoming Decision Fit.

Reviews
"Our universities educate us in languages, arts, mathematics, sciences, and social studies. Our companies train us in team building, managing personalities, leadership styles, and so on. However, no one prepares us for the most important activity in our lives: decision making. Decisions define our lives, our careers, our businesses, our family choices, our financial future, everything about us. Make Up Your Mind addresses this neglected but most important aspect of our very being."
—Dave House, Chairman, Brocade Corporation; former Senior VP, Intel Corporation; and retired CEO, Bay Networks
"In this book, Hal Mooz reveals the secrets to great decision making in all facets of life. This is a book that will help anyone make better decisions. From senior executives to teenagers, from artists to salesmen, Make Up Your Mind will give you the techniques you need to succeed through better decision making. Let Hal be your coach and take your decision-making skills to the next level."
—Frederick Giarrusso, Stanford University PhD, Decision Analysis; CEO, Stealth10, Inc.
"In his new book, Hal Mooz distills the key elements of a graduate program in project management into a guide for making better decisions that can be used by anyone. After reading his book, I find myself analyzing every decision in a new systematic and rational way. This book will be equally valuable to the family deciding which vehicle to buy, the teenager deciding which college to attend, and the businessperson deciding which direction to take their company. It has changed my very way of approaching every decision I have to make."
—Roger W. Fuller, cofounder, Maxim Integrated Products Inc.
"Here's a comprehensive, easy-to-understand guide to how we form judgments from the very analytical to the mostly unconscious and then make decisions. Use this book to learn how you are making judgments. Use this book to improve how you make decisions. There is nothing else like this book on the market."
—Mike Duffy, Dean, Strategic Relations, University of San Francisco

About the Author
Hal Mooz
is cofounder of a training and consulting company dedicated to training in project management, systems engineering, systems management, and related disciplines. He consults to government agencies and private organizations, including AT&T, NASA, Lockheed Martin, and numerous others. He has trained more than 10,000 high-technology project managers. His book Visualizing Project Management was selected by MIT, Stanford, Naval Postgraduate School, The George Washington University, and others for graduate classes and professional development programs. He is the co-creator of the University of California Project Management Training Program and a co-developer of the Stanford University Systems Engineering Certificate Program. Hal Mooz is a Certified Systems Engineering Professional and a Certified Project Management Professional. He earned the CIA's Seal Medallion and was named an INCOSE Pioneer.

Table of Contents
| | | |
| --- | --- | --- |
| | | |
| | Why This Book? | ix |
| | Foreword Jeff Henley | xi |
| | Background and Acknowledgments | xv |
| | Preface | xix |
| | | |
| | PART I Are You Decision Fit? | 1 |
| 1 | Decision Environment | 3 |
| 2 | Decision Fundamentals for Thinking Clearly | 13 |
| 3 | The Decision Type Frame | 25 |
| 4 | The Bases for Judgment | 55 |
| 5 | The Decision Solution Frame | 83 |
| | | |
| | PART II Deciding | 97 |
| 6 | Process-Assisted Judgment | 99 |
| 7 | Fact-Based Judgment | 107 |
| 8 | Probability-Based Judgment | 139 |
| 9 | Group Decision Making | 149 |
| 10 | Summary | 153 |
| | | |
| | Bibliography | 157 |
| | Index | 159 |