Serial Innovators
: Firms That Change the World
Claudio Fesser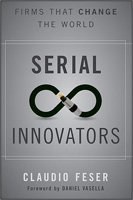 Format:
Hardcover, 202pp.
ISBN:
9781118149928
Publisher:
Wiley
Pub. Date:
November 8, 2011
Average Customer Review:

For Bulk Orders Call: 626-441-2024

Description and Reviews
From
The Publisher:
Firms are like living organisms. They're born, they grow, and then they struggle to survive. In today's high-stakes, survival-of-the-fittest economy, keeping up with changing markets marks the difference between businesses that flourish and those that flounder and fold.
Serial Innovators: Firms That Change the World
examines the aging process of the firm, identifying and explaining the factors that slow down its ability to adapt to an ever-evolving marketplace. Reviewing recent findings from across diverse academic fields—including economics, psychology, neuroscience, sociology, and many others—the book presents an exciting new understanding of how growing firms develop rigidities that prevent change. And how to resist them.
Using these findings, author and business administration expert Claudio Feser develops a model of organization that is adaptive, is innovative, and creates value for all stakeholders over long periods of time, forming a practical guide for building the ultimate firm, able to withstand market changes. The book combines the fictive, engaging story of a young and ambitious CEO who struggles to save his company from failure with short, insightful, academically thorough reviews of recent developments in research related to company adaptation, innovation, and growth, to make complex material easily accessible. To be successful, a firm must be able to adapt and thrive in dynamic markets and to continuously reinvent itself, and this book shows how.
The average life expectancy of a firm is roughlyfifteen years, and only one out of twenty firms lasts longer than fifty years. Designed for anyone with an interest in finance, economics, and business administration, Serial Innovators is the must-have book if you're looking to beat those odds.

Reviews
"Most firms do not live for very long. Only one in twenty lives longer than fifty years. Most struggle to keep up with the challenges of today's dynamic markets. When they don't, they die—they are taken over or go bankrupt. However, some firms beat the odds. They survive for long periods and create lasting value. Serial Innovators builds on a wide range of research and practical insights to show how firms can re-invent themselves and thrive for the long term. An essential guide for anyone leading organizations in today's fast-paced global markets."
—Joseph Jimenez, Chief Executive Officer, Novartis AG
"How does a company thrive and last? It can try to extend its life cycle (as unpromising a strategy for organizations as it is for humans), or it can have many life cycles, by learning the secrets of regeneration and renewal. In this engaging narrative—Claudio Feser is as much a storyteller as a strategy consultant—we are given the means to unraveling these secrets. Get ready for a rich and rewarding ride!"
—Robert Kegan, Meehan Professor of Adult Learning, Harvard University, and Coauthor, Immunity to Change
"A rich source of insights for business leaders who are transforming their organizations into firms that can thrive and win in today's dynamic markets. Well worth reading."
—Martin Senn, Chief Executive Officer, Zurich Financial Services Ltd
"Serial Innovators delivers profound and practical insights on innovation and company adaptation with remarkable simplicity. It draws from a wide range of research to provide business leaders with a practical guide for building organizations that can innovate continuously and thus capture value creation opportunities in the complexity of today's global and dynamic markets."
—Ernst Fehr, Professor and Chairman, Department of Economics, University of Zurich
"Long-lasting, successful institutions are driven by the desire to make a difference. This book makes a difference. The story of Carl is illuminating, transforming facts and academic findings into business life's reality. When you compare your situation, your experience, and your behavior with Carl's approach, you can reflect on your personal challenges, and you can find out—well beyond business—what really matters!"
—Rolf Dörig, Chairman, Adecco SA and Swiss Life Holding Ltd

About the Author
Claudio Feser
is a Director of McKinsey & Company, where he leads the McKinsey CEO Network, a practice of the company that focuses on CEO training and coaching. Feser previously managed McKinsey offices in Switzerland and Greece. During his career, he has advised the CEOs of some of the world's largest and most renowned companies.

Table of Contents
| | | |
| --- | --- | --- |
| | | |
| | Foreword | ix |
| | Prologue | xi |
| | Introduction | xiii |
| | | |
| | PART I THE EPHEMERAL NATURE OF FIRMS | |
| 1 | Meet Carl Berger | 3 |
| 2 | Corporate Life Cycle | 11 |
| | | |
| | PART II INDIVIDUAL RIGIDITIES | |
| 3 | To Err Is Human | 25 |
| 4 | The Greatest of All Time | 39 |
| 5 | Rewiring Brains | 55 |
| | | |
| | PART III ORGANIZATIONAL RIGIDITIES | |
| 6 | Long Live Bureaucracy! | 75 |
| 7 | In Brain We Trust | 97 |
| 8 | What We Value | 111 |
| 9 | What Not to Pay For | 121 |
| 10 | Fast Learners | 131 |
| | | |
| | PART IV SERIAL INNOVATORS | |
| 11 | The Secrets of Serial Innovators | 139 |
| 12 | Beyond Business: The Medici, Oxford, and the Catholic Church | 155 |
| 13 | Legacy through Leadership | 161 |
| | Afterword | 167 |
| | | |
| | Appendix A: Analysis of the Top 50 U.S. Firms of 1960 | 171 |
| | Appendix B: Corporate Aging and Survival | 177 |
| | Appendix C: Key Questions for Transforming Your Firm | 181 |
| | References | 187 |
| | Acknowledgments | 193 |
| | About the Author | 195 |
| | Index | 197 |