Speaking As a Leader
: How to Lead Every Time You Speak...From Board Rooms to Meeting Rooms, From Town Halls to Phone Calls
Judith Humphrey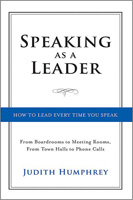 Format:
Hardcover, 264pp.
ISBN:
9781118141014
Publisher:
Jossey-Bass
Pub. Date:
February 21, 2012
Average Customer Review:

For Bulk Orders Call: 626-441-2024

Description and Reviews
From
The Publisher:
Speaking as a Leader
will show you how to influence and inspire others every time you speak. It provides a single, comprehensive approach that will help you lead in every communication, from formal speeches and presentations, to phone calls, meetings, Q&A, and elevator conversations.
Too often communications situations represent lost opportunities to lead. Messages are confused, audiences are bored or overwhelmed by a flood of information, and the speaker fails to elicit action. When people fail to communicate they fail to lead.
Speaking as a Leader
addresses this problem and puts communication squarely at the center of leadership. In today's flattened organizations, leadership opportunities exist in every interaction and for individuals at every level. For a leader, the mike is always on.
This book will help readers meet the enormous challenge of engaging, energizing, and motivating others day in and day out. It will help you unlock your leadership potential every time you communicate and turn your listeners into followers and believers. Its four-step model will show you how to:
Think like a leader
Script yourself as a leader
Use the language of leadership
Achieve a leader's presence.
No other book offers such a powerful approach to move you from information to inspiration.

"Readers will find themselves transformed by this book. I thought I was a good speaker going into The Humphrey Group's seminar. But I had no idea how good I could be."
—MARTHA FELL, CEO, Women in Capital Markets
"I can say from experience that anyone who wants to speak as a leader should read this book. I first worked with Judith when I was CFO at Imperial Oil. When I became CEO of Petro-Canada I not only used those communication skills, but brought Judith in to work with my entire executive team."
—RON BRENNEMAN, Former CEO, Petro-Canada
"The great thing about this book—and Judith's approach—is that it teaches leaders how to bring forward clear, compelling ideas. It offers readers the rare gift of intellectual eloquence."
—STUART GRAHAM, President, Pimco Canada
"Speaking as a Leader is necessary reading for anyone who must influence up, down, and across their organization. We in OMERS Capital Markets have found the techniques invaluable for everyone from our managing directors to our associate interns."
—JAMES DONEGAN, President, OMERS Capital Markets
"I gave presentations (with slides) every day but a speech behind a lectern made me freeze. Judith taught me that the audience needs a pause and will wait to take in what I was saying. That approach saved my life. This book will help you too!"
—DAVID GALLOWAY, Chairman, BMO Bank of Montreal Financial Group
"Communication skills make a huge difference when senior teams consider who has potential to move up to more senior roles. This book will give you that crucial edge."
—HELEN HANDFIELD-JONES, Co-Author, The War For Talent
"Speaking as a Leader provides readers with a single approach that has enabled me to successfully reach all my audiences—board members, senior executives, my leadership team, employees, shareholders, and analysts."
—STEPHEN DYER, Chief Financial Officer, Agrium Inc.
"The methodology set out in this book has had a tremendous impact for us at Goldcorp—enabling those at our mining sites to speak with confidence and conviction."
—ANNA M. TUDELA , Vice-President, Regulatory Affairs and Corporate Secretary, Goldcorp Inc.

About the Author
Judith Humphrey
is Founder and President of The Humphrey Group, one of North America's premier executive communications firms. For over 20 years The Humphrey Group has been coaching thousands of senior business people who wish to lead every time they speak. The firm's training programs, such as Speaking as a Leader and Taking the Stage, have been delivered globally to over 100,000 people directly and through train-the-trainer programs. The Humphrey Group's clients include blue chip companies around the world. Judith has published articles in the Harvard Management Communication Letter, Vital Speeches of the Day, and Presentations That Persuade and Motivate (Harvard Business School Press). The Humphrey Group has offices in Toronto and Vancouver and its website is www.thehumphreygroup.com.

Table of Contents
| | | |
| --- | --- | --- |
| | | |
| | Preface | ix |
| | Introduction: Speaking as an Act of Leadership | 1 |
| | | |
| | STEP 1: THINK LIKE A LEADER | 9 |
| 1 | Begin with Vision | 11 |
| 2 | Think beyond Hierarchies | 17 |
| 3 | Move from Information to Inspiration | 27 |
| 4 | Move from Negatives to Positives | 35 |
| 5 | Speak with Conviction | 41 |
| 6 | Listen, Listen, Listen | 49 |
| 7 | Commit to Communicating | 59 |
| | | |
| | STEP 2: SCRIPT YOURSELF AS A LEADER | 69 |
| 8 | What Is a Leader's Script? | 71 |
| 9 | Open with a Grabber | 77 |
| 10 | State Your Subject | 87 |
| 11 | Lead with a Message | 91 |
| 12 | Develop a Persuasive Structure | 101 |
| 13 | Close with a Call to Action | 113 |
| | | |
| | STEP 3: USE THE LANGUAGE OF LEADERSHIP | 121 |
| 14 | Speak with Clarity | 123 |
| 15 | Take the "Jar" out of Jargon | 131 |
| 16 | Be Conversational | 137 |
| 17 | Be Personal | 145 |
| 18 | Be Eloquent | 153 |
| 19 | Don't Be . . . Um . . . Tentative | 161 |
| 20 | Take the "Numb" out of Numbers | 167 |
| 21 | Jokes Are Not for Leaders | 173 |
| | | |
| | STEP 4: ACHIEVE A LEADER'S PRESENCE | 177 |
| 22 | Bring Your Script to Life | 179 |
| 23 | You Are the Best Visual | 187 |
| 24 | The Eyes of a Leader | 191 |
| 25 | Suit the Action to the Word | 203 |
| 26 | Find Your Leader's Voice | 215 |
| | | |
| | Conclusion: Always Leading, Always Influencing | 225 |
| | Endnotes | 231 |
| | Index | 243 |

Find Items On Similar Subjects

The Silent Language of Leaders
: How Body Language Can Help--or Hurt--How You Lead