How Great Leaders Think
: The Art of Reframing
Lee G. Bolman and Terrence E. Deal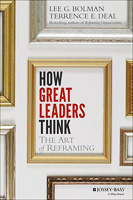 Format:
Hardcover, 240pp.
ISBN:
9781118140987
Publisher:
Jossey-Bass
Pub. Date:
August 4, 2014
Average Customer Review:

For Bulk Orders Call: 626-441-2024

Description and Reviews
From
The Publisher:
How Great Leaders Think: The Art of Reframing
uses compelling, contemporary examples to show how better thinking is the key to better leadership. Leaders who can reframe capture a sharper image of what's going on around them and understand what they need to do to achieve the results they want. Bolman and Deal's influential four-frame model of leadership and organizations—developed in their bestselling book, Reframing Organizations: Artistry Choice, and Leadership—offers leaders an accessible template for understanding four major dimensions of organizational life: structure, people, politics, and culture. Tapping into the power of the imagery enables leaders to decode the messy world in which they live, see more options, tell better stories, and find more powerful leadership strategies. Case examples of leaders like Jeff Bezos of Amazon, Howard Schultz at Starbucks, Tony Hsieh of Zappos, Ursula Burns at Xerox, and the late Steve Jobs of Apple provide concrete lessons that readers can put to use in their own leadership. The book's lessons include:
How to use structural tools to organize teams and organizations for better results
How to build motivation and morale by aligning organization and people
How to map the political terrain and build a power base to navigate the partisan struggles in organizations
How to develop a leadership story that shapes culture, provides meaning, and inspires people toward a shared purpose.

Reviews
"Bolman and Deal's The Wizard and the Warrior could be your secret weapon. Read. Learn. Then lead with confidence."
—THOMAS KELLER, chef and owner, The French Laundry; author of Ad Hoc at Home and Bouchon Bakery
"The 'gold standard' for looking at leadership. The Wizard and the Warrior is about fighting the good fight, but not losing sight of the magic—it is about making the word flesh. This is a must-read for anyone who cares about becoming a better leader."
—PAUL D. HOUSTON, former executive director, American Association of School Administrators

About the Authors
Lee G. Bolman
holds the Marion Block Missouri Chair in Leadership at the Bloch School of Management, University of Missouri–Kansas City. With Terrence Deal, Bolman is coauthor of the bestselling book Reframing Organizations, now in its 5th edition. For twenty years, Bolman taught at the Harvard Graduate School of Education.
Terrence E. Deal
is the founder of the Deal Leadership Institute and has served on the faculties of Stanford, Harvard, Vanderbilt, and the University of Southern California. He is the author or coauthor of twenty-seven books, including the bestseller Corporate Cultures, as well as numerous articles on organizations, change, and leadership.

Table of Contents
| | | |
| --- | --- | --- |
| | | |
| | Preface | vii |
| | Acknowledgments | ix |
| | | |
| | Part 1 Leadership in Four Dimensions | 1 |
| 1 | Introduction: The Power of Reframing | 3 |
| | | |
| | Part 2 Structural Leadership | 21 |
| 2 | Getting Organized | 23 |
| 3 | Organizing Groups and Teams | 37 |
| | | |
| | Part 3 Human Resource Leadership | 49 |
| 4 | Leading People | 51 |
| 5 | Seeing Ourselves as Others See Us | 63 |
| | | |
| | Part 4 Political Leadership | 77 |
| 6 | The Leader as Politician | 79 |
| 7 | The Leader as Warrior and Peacemaker | 91 |
| | | |
| | Part 5 Symbolic Leadership | 105 |
| 8 | The Leader as Magician | 107 |
| 9 | Seeking Soul in Teams | 119 |
| | | |
| | Part 6 Improving Leadership Practice | 129 |
| 10 | Reframing in Action | 131 |
| 11 | Images of Leadership: Can Crooked Kites Fly? | 145 |
| 12 | Leadership and Change | 159 |
| 13 | Searching for Soul: Leadership Ethics | 175 |
| 14 | Great Leaders, Great Stories | 187 |
| | | |
| | Appendix: Leadership Orientations | 195 |
| | Notes | 201 |
| | The Authors | 213 |
| | Index | 215 |

Find Items On Similar Subjects

Reframing Organizations
: Artistry, Choice, and Leadership