Rippling
: How Social Entrepreneurs Spread Innovation Throughout the World
Beverly Schwartz (Ashoka)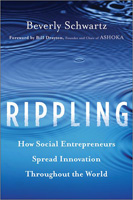 Format:
Hardcover, 288pp.
ISBN:
9781118138595
Publisher:
Jossey-Bass
Pub. Date:
March 27, 2012
Average Customer Review:

For Bulk Orders Call: 626-441-2024

Description and Reviews
From
The Publisher:
How can we address the critical challenges that threaten to destroy the foundations of our society and planet in these increasingly turbulent times?
Rippling reveals proven principles that drive significant change and draws on Beverly Schwartz's vast knowledge and experience of working with hundreds of the world's top social change leaders. Schwartz is vice president at Ashoka, the global organization that works to ensure that social entrepreneurs and their innovations inspire a generation of changemakers to help sustain and support large scale social change. In this groundbreaking book, she presents a time-tested model that any individual leader or organization can apply to bring about deep, lasting, and systematic change, based on five principles:
Restructure Industry Norms
Change Market Dynamics
Use Market Forces to Create Social Value
Advance Full Citizenship
Cultivate Empathy
These actionable principles are brought to life by the book's compelling stories of everyday people who have made real changes around the globe. Throughout the book, Schwartz provides a blueprint to demonstrate how anyone, anywhere, can become an effective changemaker.
As Schwartz explains, the next-generation changemakers are in many ways the champions of this movement: the corporations that embrace new and more sustainable ways of doing business; the donors who want their money to effectively and ethically impact people's lives; and the citizens who are trying to make a better life for themselves, their families, their neighbors, and their communities.
Rippling presents some of today's most innovative and effective approaches to solving social and environmental challenges, and clearly demonstrates that when empathy, creativity, passion, and persistence are combined, significant, life-altering progress is indeed possible.

Reviews
"Rippling is a wonderful and highly accessible book about people advancing creative and pragmatic solutions to the world's toughest problems. The remarkable breadth of global examples, combined with the depth of Schwartz's observations and analysis, make it a must-read for anyone who wants to understand some of the most powerful forces, ideas, and solution patterns that are reshaping society."
—David Bornstein, author, How to Change the World and coauthor, New York Times "Fixes" column
"Rippling will resonate with anyone who is eager to know more about how to create an (eco)system for positive change. It will lift your heart and change your outlook on what is possible when one combines innovation with entrepreneurship. Schwartz's skillful storytelling covers the challenges of 'life without' while sharing creative approaches to designing a world that nourishes human potential."
—Arthur Rubinfeld, president, global development, Starbucks Coffee Company
"Rippling is a must-read in the growing but often confusing literature on social entrepreneurship. Writing with great skill and passion, Beverly Schwartz weaves a beautiful tapestry of stories and insights that takes us from the traditional call to change to clear lessons for achieving impact. It is essential reading and will become a classic in the conversation."
—Paul C. Light, Paulette Goddard Professor of Public Service, Robert Wagner School of Public Service, New York University
"Anyone who feels overwhelmed by the thought of making a difference in the world will be reassured by these changemakers, who teach us how small steps can lead to enormous global progress. For all of us who dream of a more equitable, peaceful, and safer world, Rippling is a welcome invitation to hear the voices of changemakers everywhere. It's an inspiring read guaranteed to fill you with hope."
—Susan Grant, executive vice president, CNN
"Rippling's concepts are relevant and accessible for businesses of all sizes, from individual entrepreneurs to global corporations. Organizations that tap into the changemaker vision can spark innovation, engage employees, and better meet customer needs while improving the bottom lines for business and society as a whole."
—Ronald L. Sargent, chairman and CEO, Staples, Inc.

About the Author
Beverly Schwartz
is vice president of global marketing at Ashoka, the world's largest association of leading social entrepreneurs. Schwartz is an "entrepreneurial" behavioral scientist and has made her career in the field of social marketing. She has devoted her career to working on some of the world's most challenging societal issues, including smoking and drug prevention, gender equity, educational and environmental reform, and HIV/AIDS awareness and prevention. She holds an MS degree from Queens College, City University of New York.

Find Items On Similar Subjects

Community
: The Structure of Belonging - P