The Wisdom of Failure
: How to Learn the Tough Leadership Lessons Without Paying the Price
Jim McConoughey and Laurence G. Weinzimmer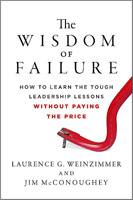 Format:
Hardcover, 304pp.
ISBN:
9781118135013
Publisher:
Jossey-Bass
Pub. Date:
October 9, 2012
Average Customer Review:

For Bulk Orders Call: 626-441-2024

Description and Reviews
From
The Publisher:
"These fresh voices on the leadership stage show us that by looking honestly at failure, we can better navigate around it. An essential read for current and aspiring leaders."
—Jack Stack, CEO, SRC Holdings; bestselling author, The Great Game of Business
There is a paradox in leadership: we can succeed only by knowing failure. Every accomplished leader knows there are minefields of failures that need to be navigated in order to succeed. Unfortunately, at a certain level, learning from failure is not an option. Wouldn't it be great to have the insights to help you prevent avoidable mistakes? Yet, in business, talking about mistakes can be taboo.
In The Wisdom of Failure, Laurence Weinzimmer and Jim McConoughey speak frankly about the things that are difficult to talk about: the unvarnished truths necessary to become a successful leader. Based on a groundbreaking seven-year study of almost 1,000 managers across 21 industries and exclusive interviews with CEOs at a wide range of organizations including Intel, Caterpillar, and Priceline.com, the book uncovers the three most damning leadership mistakes:
Unbalanced Orchestration—leadership failures at the organizational level
Drama Management—leadership failures at the team level
Personality Issues—leadership failures at the personal level
The authors share real-world stories of mistakes leaders have made or avoided and offer practical strategies to help you identify and proactively prevent the potential for failure.
Learning from the mistakes of others is an invaluable part of the journey of effective leadership. Weinzimmer and McConoughey offer an indispensable guide to learning these powerful lessons—without paying the price of failure.

Reviews
"After reading only one of the chapter headings of The Wisdom of Failure—'Does This Doorframe Make My Head Look Big?'—I knew I was in for a real treat. Luckily for me, the rest of the book does not disappoint. Through their analysis of many pointed leadership examples in American business, the authors distill corporate lessons into pearls of wisdom from which all of us can learn."
—Marshall Goldsmith, New York Times bestselling author, MOJO and What Got You Here Won't Get You There
"A definitive piece of work that makes a most compelling connection between understanding failure and experiencing success. A must-read for serious-minded leaders who want to take their businesses to higher ground in an enduring way."
—Douglas R. Conant, former president, CEO, and director, Campbell Soup Company; New York Times bestselling author, Touchpoints
"In this important new book from Weinzimmer and McConoughey, we discover how true it is, that the best leaders are the best learners. The Wisdom of Failure is a rare, honest look at both sides of the leadership story. Solidly researched and filled with practical examples you can apply immediately, this book should be read by leaders across the board."
—Jim Kouzes, Dean's Executive Fellow of Leadership, Leavey School of Business, Santa Clara University; bestselling coauthor, The Leadership Challenge
"All great leaders learn from their mistakes, but mistakes are a precious and costly resource. This provocative and thoughtful book allows you to learn from others' mistakes, so you can learn without paying the price. Buy copies for everyone on your team and leverage these lessons on your journey to creating extraordinary results."
—Saj-nicole Joni, confidential CEO advisor; bestselling author, The Right Fight

About the Authors
>
Laurence G. Weinzimmer
is an endowed professor of management at Bradley University. He is an internationally recognized speaker and advisor to numerous Fortune 100 companies on issues relating to strategy and leadership. He is the author of the bestseller Fast Growth: How to Attain It, How to Sustain It.
Jim McConoughey
is an experienced CEO, sought-after business development and community leadership expert, and an active fund manager for venture and early-stage capital investments. Jim's particular focus is working with small to mid-size organizations to identify and evaluate strategic growth opportunities.

Table of Contents
| | | |
| --- | --- | --- |
| | | |
| 1 | Flawless Leadership: Learning the Lessons without Paying the Price | |
| | | |
| | Part I: UNBALANCED ORCHESTRATION | |
| 2 | Seduced by Yes: Trying to Be All Things to All People | |
| 3 | Businesses You Have No Business Being In: Roaming Outside the Box | |
| 4 | Entrenched in Efficiency: Forgetting to Put Effectiveness First | |
| | | |
| | Part II: DRAMA MANAGEMENT | |
| 5 | The Playground in the Workplace: Leaders Who Rule by Bullying | |
| 6 | When Utopia becomes Dystopia: Problems with Dysfunctional Harmony | |
| 7 | The Battle Within: Distracted Purpose | |
| | | |
| | PART III: PERSONALITY ISSUES | |
| 8 | Standing in the Way: Hoarding Power and Responsibility | |
| 9 | Living Outside the Storm: The Destructive Path of Disengagement | |
| 10 | Does this Doorframe Make My Head Look Big? Problems with Self-Absorbed Leaders | |
| | | |
| | A Final Caveat: Walking the Line | |
| | | |
| | Notes | |
| | Acknowledgements | |
| | About the Author | |
| | Index | |