Your Best Just Got Better
: Work Smarter, Think Bigger, Make More
Jason W. Womack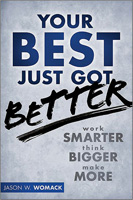 Format:
Hardcover, 272pp.
ISBN:
9781118121986
Publisher:
Wiley
Pub. Date:
February 7, 2012
Average Customer Review:

For Bulk Orders Call: 626-441-2024

Description and Reviews
From
The Publisher:
How did you spend your time today? What did you do really well? Were you running behind for every meeting? Feeling stressed? Constantly struggling to maintain your focus? If your performance today was your best, then it's time to make your best better.
In
Your Best Just Got Better
, productivity expert Jason Womack shows you that working longer hours doesn't make up for a flawed approach to productivity and performance. Workers need to clarify their habits, build mindset-based strategies, and be proactive. Womack's signature workplace performance techniques offer specific strategies to consistently and incrementally improve perfor-mance. Learn how to maximize your four most limited resources—time, energy, focus, and productivity tools—to build solid and sustainable workflow habits.
Your Best Just Got Better
will help you identify your role in making your best better. Through strategic, iterative change, you can become more effective and efficient at work and in life, making time for the things and the people you love. Womack's powerful advice will show you how to:
Set goals and take consistent, calculated action toward achievement
Invest 15 minutes every day to make your best better
Reflect on your achievements and let them power you towards your next goal
Build a strong, productive social network
Track your use of your limited resources—time, energy, focus, and your systems and tools
Test new practices with the Five Day Experiment
It's time to work smart and think big. But how smart you work depends on how well you know yourself, how clear your goals are, and how well you're using your time. By applying just a little focus to when you're at your best, you can improve how you get things done. Make your best better, and make new things possible today.

Reviews
"Jason Womack teaches you not to settle for your 'best' but to keep the target moving forward. With his help, break through and do better than you ever thought possible, in every area of your personal and professional life."
—Keith Ferrazzi, bestselling author of Never Eat Alone and Who's Got Your Back
"A lot has been written about peak performance—the power of clarity, focusing on positive outcomes, time management, relationships, and mastering self-talk. Jason Womack is one of the very few that pulls it all together in a practical, actionable, and meaningful way. Your Best Just Got Better is a blueprint for finding true balance and meaning, and achieving your best in life and business."
—Matthew Hately, VP Strategy, Macadamian
"After working with Jason for the last ten years to help my teams achieve the next level of success and effectiveness, I was thrilled that his new book offers a unique perspective along with actionable strategies to maximize the impact you can have in your business, your community, and your life."
—Russ Staltars, Director, Information & Data Management, British Petroleum
"Jason's ability to help people focus on the most important things is a game-changer for personal productivity. His ability to help de-clutter our thought processes and work with more intensity and intention is invaluable. Pick up this book. Read it. Digest it. Read it again. It could change your life."
—Tony Wilson, CEO/Founder, Performance Coach to Australia's leading athletes and executives

About the Author
Jason W. Womack
is CEO and founder of the Jason Womack Company, which provides customized training on workplace performance. As an executive coach, he shows clients—managers, employees, and entrepreneurs—how to work smart, think big, and make more. Coaching hundreds of individuals and traveling extensively, Jason has facilitated more than 1200 Workplace Performance workshops.

Table of Contents
| | | |
| --- | --- | --- |
| | | |
| | Foreword Marshall Goldsmith | xi |
| | Prologue | xiii |
| | Introduction | xv |
| | | |
| | Part 1 Work Smarter | 1 |
| 1 | Improvement and You: Identifying Your Role in Making Your Best Better | 3 |
| 2 | Improvement and Pacing: Building and Sustaining Habits That Lead to Productivity | 29 |
| 3 | Improvement and Time: Get the Most from 1 Percent of Your Day! | 49 |
| | | |
| | Part 2 Think Bigger | 71 |
| 4 | Improvement and Self-Efficacy: If You Think You Can, You Probably Can | 73 |
| 5 | Improvement and the Social Network: If You Want to Go Far, Fast, Go Together | 91 |
| 6 | Improvement and Tracking: What Is in the Way, What Is Along the Way? | 109 |
| 7 | Improvement and Purpose: Clarify and Promote Your Own "So That . . ." | 129 |
| | | |
| | Part 3 Make More | 153 |
| 8 | Improvement and Feedback: Knowing How to Ask for It and What to Do with It | 155 |
| 9 | Improvement and Focus: The Resource That Affects All Others | 179 |
| 10 | Improvement and Practice: Practice Doesn't Make Perfect, It Makes Comfortable | 201 |
| | | |
| | Conclusion | 227 |
| | Acknowledgments | 233 |
| | Index | 235 |