What Matters Now
: How to Win in a World of Relentless Change, Ferocious Competition, and Unstoppable Innovation
Gary Hamel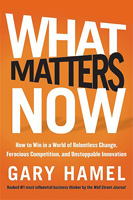 Format:
Hardcover, 304pp.
ISBN:
9781118120828
Publisher:
Jossey-Bass
Pub. Date:
January 24, 2012
Average Customer Review:


For Bulk Orders Call: 626-441-2024

Description and Reviews
From
The Publisher:
This is not a book about one thing. It's not a 250-page dissertation on leadership, teams or motivation. Instead, it's an agenda for building organizations that can flourish in a world of diminished hopes, relentless change and ferocious competition.
This is not a book about doing better. It's not a manual for people who want to tinker at the margins. Instead, it's an impassioned plea to reinvent management as we know it—to rethink the fundamental assumptions we have about capitalism, organizational life, and the meaning of work.
Leaders today confront a world where the unprecedented is the norm. Wherever one looks, one sees the exceptional and the extraordinary:
Business newspapers decrying the state of capitalism.
Once-innovative companies struggling to save off senescence.
Next gen employees shunning blue chips for social start-ups.
Corporate miscreants getting pilloried in the blogosphere.
Entry barriers tumbling in what were once oligopolistic strongholds.
Hundred year-old business models being rendered irrelevant overnight.
Newbie organizations crowdsourcing their most creative work.
National governments lurching towards bankruptcy.
Investors angrily confronting greedy CEOs and complacent boards.
Newly omnipotent customers eagerly wielding their power.
Social media dramatically transforming the way human beings connect, learn and collaborate.
Obviously, there are lots of things that matter now. But in a world of fractured certainties and battered trust, some things matter more than others. While the challenges facing organizations are limitless; leadership bandwidth isn't. That's why you have to be clear about what really matters now. What are the fundamental, make-or-break issues that will determine whether your organization thrives or dives in the years ahead? Hamel identifies five issues are that are paramount: values, innovation, adaptability, passion and ideology. In doing so he presents an essential agenda for leaders everywhere who are eager to...
move from defense to offense
reverse the tide of commoditization
defeat bureaucracy
astonish their customers
foster extraordinary contribution
capture the moral high ground
outrun change
build a company that's truly fit for the future
Concise and to the point, the book will inspire you to rethink your business, your company and how you lead.
* * *
What Matters Now
is Gary Hamel's impassioned plea to rethink the fundamental assumptions we have about management, the meaning of work, and organizational life. He asks, "What are the fundamental, make-or-break issues that will determine whether your organization thrives or dives in the years ahead?" The answer is found in five paramount issues: values, innovation, adaptability, passion, and ideology.
Values
: With trust in large organizations at an all time low, there is an urgent need to rebuild the ethical foundations of capitalism. What's required is nothing less than a moral renaissance in business.
Innovation
: Innovation is the only defense against margin-crushing competition, and the only way to outgrow a dismal economy. In too many companies, innovation is still a buzzword, rather than the responsibility of every single individual. This must change.
Adaptability
: In a world of accelerating change, every company must build an evolutionary advantage. The forces of inertia must be vanquished. The ultimate prize: an organization that is as nimble as change itself.
Passion
: In business as in life, the difference between "insipid" and "inspired" is passion. With mediocrity fast becoming a competitive liability, success depends on finding new ways to rouse the human spirit at work.
Ideology
: Today, businesses need more than better practices; they need better principles. Bureaucracy and control have had their day. It's time for a new ideology based on freedom and self-determination.

Reviews
"Gary Hamel has crafted a challenging book that starts with values, celebrates innovation, and concludes by opening up the hierarchies of large companies to unleash the true human potential of the people who work there. This is a book to return to again and again as managers everywhere confront the challenges of orthodoxy, management lethargy, and overly-rigid company processes."
—Henry Chesbrough, author, OpenInnovation; professor at UC Berkeley's Haas School of Business

About the Author
Gary Hamel
(Silicon Valley, CA) has been called the world's "most influential business thinker" (Wall Street Journal) and "leading expert on business strategy" (Fortune). His landmark books have appeared on every management bestseller list. He is also author of 15 articles for the Harvard Business Review and articles for the WSJ, Fortune and Financial Times. He is on the faculty of the London Business School and consults with GE, Time Warner, Nokia, Nestle, Shell, Best Buy, Procter & Gamble, 3M, IBM, and Microsoft. He founded the management consulting firm Strategos and the think-tank MLab. He is currently leading an effort to build an open innovation platform for reinventing management. The Management Innovation Exchange (managementinnovationexchange.com) has been designed to radically accelerate the evolution of management knowledge and practice.

Table of Contents
| | | |
| --- | --- | --- |
| | | |
| | Preface | |
| | | |
| | Section 1: Values Matter Now | |
| | 1.1 Getting First Things First | |
| | 1.2 Learning from the Crucible of Crisis | |
| | 1.3 Rediscovering Farmer Values | |
| | 1.4 Renouncing Capitalism's Dangerous Conceits | |
| | 1.5 Reclaiming the Noble | |
| | | |
| | Section 2: Innovation Matters Now | |
| | 2.1 Defending Innovation | |
| | 2.2 Cataloging the World's Greatest Innovators | |
| | 2.3 Inspiring Great Design | |
| | 2.4 Turning Innovation Duffers into Pros | |
| | 2.5 Deconstructing Apple | |
| | | |
| | Section 3: Adaptability Matters Now | |
| | 3.1 Changing How We Change | |
| | 3.2 Becoming an Enemy of Entropy | |
| | 3.3 Diagnosing Decline | |
| | 3.4 Mourning Corporate Failure | |
| | 3.5 Future-Proofing Your Company | |
| | | |
| | Section 4: Passion Matters Now | |
| | 4.1 Exposing Management's Dirty Little Secret | |
| | 4.2 Putting Individuals Ahead of Institutions | |
| | 4.3 Building Communities of Passion | |
| | 4.4 Reversing the Ratchet of Control | |
| | 4.5 Reinventing Management for the Facebook Generation | |
| | | |
| | Section 5: Ideology Matters Now | |
| | 5.1 Challenging the Ideology of Management | |
| | 5.2 Managing Without Hierarchy | |
| | 5.3 Escaping the Management Tax | |
| | 5.4 Inverting the Pyramid | |
| | 5.5 Aiming Higher | |
| | | |
| | Appendix: The Half Moon Bay "Renegade Brigade" | |
| | Notes | |
| | Acknowledgments | |
| | About the Author | |
| | Index | |

Find Items On Similar Subjects

Leading the Revolution
Hardcover

Leading the Revolution
Paperback

The Future of Management