Power Questions
: Build Relationships, Win New Business, and Influence Others
Andrew Sobel and Jerold Panas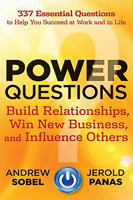 Format:
Hardcover, 224pp.
ISBN:
9781118119631
Publisher:
Wiley
Pub. Date:
February 7, 2012
Average Customer Review:

For Bulk Orders Call: 626-441-2024

Description and Reviews
From
The Publisher:
Unlock the power of great questions
What do you think most engages a prospective client, or makes a lasting impression on someone you've just met? The popular belief is that we win business by being clever and quick on our feet, and that our brilliance—saying just the right thing—is what attracts others. But as
Power Questions
compellingly demonstrates, knowing the right question to ask is actually far more important than having a ready answer.
Power Questions
can immediately help you win more business, deepen your relationships, and connect with people more rapidly than you ever thought possible. It shows you how to use thought-provoking questions to engage prospects and uncover their most pressing issues. It gives you the tools to get inside the heart and mind of anyone you meet. In thirty-five inspiring chapters, you'll meet a fascinating group of men and women. Through these riveting, real-life stories, you'll learn exactly how each power question was used and the impact it had. You'll discover how you can transform your daily conversations—and even someone's life—through powerful questions that anyone can master.
You'll learn how Steve Jobs asked a single motivating question that led to breakthrough results in developing the Macintosh personal computer. You'll see how an unasked question cost a major company a huge project bid. Other powerful examples include:
The question that stopped an angry executive in his tracks
The sales question CEOs expect you to ask, versus the questions they want you to ask
The question that can radically refocus any meeting
A simple question that helped restore a marriage
The penetrating question that can transform the life of a friend or colleague
Put these questions to use and you will connect more deeply with your clients, drive quickly to the heart of problems, and unlock your professional and personal influence in unexpected and delightful ways.

Reviews
"The greatest gift you can give someone is to ask what he or she thinks and truly listen to the answer. Sobel and Panas turn this powerful idea into practical, compelling advice by asking questions that reveal surprising, often life-changing answers."
—Ralph W. Shrader, Chairman and CEO, Booz Allen Hamilton
"This book is amazing. It packs a wallop. It helps set your conversations on the right track and enhances your ability to listen. It gets you inside the mind and heart of a person. I strongly recommend it."
—John Schlifske, Chairman and CEO, Northwestern Mutual
"Reading Power Questions is like listening in on the most amazing array of private conversations with CEOs, politicians, religious authorities, and entrepreneurs. A joyous read."
—David Sable, Global CEO, Young & Rubicam
"In Power Questions, Andrew Sobel and Jerry Panas show how to drill deep in any situation by identifying the precise question that is begging to be asked. Read this remarkable book and keep it handy, because these questions have the power to enrich every segment of your life."
—Ken Blanchard, coauthor of The One Minute Manager® and Leading at a Higher Level
"At the White House, I learned the art of answering questions, but all the time I thought to myself, the trick is to ask the right question. Andrew and Jerry nail that art. This book is indispensable for tapping the power of successful communication. A must-read!"
—Mike McCurry, former press secretary for President Bill Clinton
"Power Questions is easy to pick up, but hard to put down. Andrew and Jerry give a veritable playbook for building stronger relationships. Whether you read it cover to cover or just open a page to prepare for a new meeting, it's a valuable resource no matter where you are in your career."
—Frank D'Souza, CEO, Cognizant
"Andrew Sobel and Jerry Panas have developed the thought-provoking thesis in their book of the importance of asking questions to tailor advice and build relationships. Their work is illustrated with plenty of examples—some humorous, others dramatically pertinent—and their premise becomes more convincing page by page."
—Sir Winfried Bischoff, Chairman, Lloyds Banking Group

About the Authors
Andrew Sobel
is the leading authority on client relationships and the skills and strategies required to earn enduring client loyalty. His books include the award-winning All for One (Wiley) and the bestselling Clients for Life. He has been featured in the Harvard Business Review, the New York Times, and USA Today. Andrew helps companies and individuals build their clients for life.
Jerold Panas
is the world's leading consultant in philanthropy and the CEO of Jerold Panas, Linzy & Partners, the largest consulting firm in the world for advising nonprofit organizations and foundations on fundraising. Jerry is the author of thirteen bestselling books, including Asking and Mega Gifts. He works directly with CEOs, boards, and development professionals around the world.

Table of Contents
| | | |
| --- | --- | --- |
| | | |
| | The Power Questions | 1 |
| | | |
| 1 | Good Questions Trump Easy Answers | 3 |
| 2 | If You Don't Want to Hit Bottom, Stop Digging the Hole | 7 |
| 3 | The Four Words | 13 |
| 4 | When the Sale Is Stuck | 17 |
| 5 | Mission Isn't Important. It's Everything | 23 |
| 6 | Get Out of Your Cave | 27 |
| 7 | Begin at the Beginning | 33 |
| 8 | Start Over | 39 |
| 9 | You Can Overcome Anything If You Understand Why | 43 |
| 10 | In a Hushed Moment | 47 |
| 11 | Is This the Best You Can Do? | 53 |
| 12 | No Gorilla Dust | 59 |
| 13 | Bury the Cliches | 63 |
| 14 | Don't Let Anyone Steal Your Dreams | 69 |
| 15 | Silence Can Be the Best Answer | 73 |
| 16 | The Greatest Teacher | 77 |
| 17 | Push Open the Flood Gate | 83 |
| 18 | The Essence of Your Job | 87 |
| 19 | ATempest-Tossed Topic | 91 |
| 20 | The Road Taken | 97 |
| 21 | Who Do You Say I Am? | 103 |
| 22 | That Special Moment in Life | 109 |
| 23 | Your Plans or Their Plans? | 115 |
| 24 | Never Look Back Unless You Plan to Live That Way | 121 |
| 25 | How to Stop the Snorting | 127 |
| 26 | Dig Deeper. Deeper. Still Deeper | 131 |
| 27 | Always Faithful | 135 |
| 28 | I Used to Be Indecisive—But Now I'm Not Sure | 141 |
| 29 | Blah Blah Blah | 145 |
| 30 | Why Is This Day Different? | 149 |
| 31 | Never Too Late | 153 |
| 32 | Take Stock of Your Life | 159 |
| 33 | The Heart of the Matter | 165 |
| 34 | Capture the Moments | 169 |
| 35 | The Awe andWonder of the Power Question | 175 |
| | Not Just for Sunday | 181 |
| | | |
| | 293 More Power Questions | 183 |
| | About the Authors | 203 |