Creative People Must Be Stopped
: 6 Ways We Kill Innovation (Without Even Trying)
David A Owens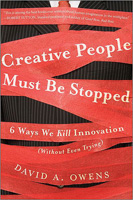 Format:
Hardcover, 304pp.
ISBN:
9781118002902
Publisher:
Jossey-Bass
Pub. Date:
November 22, 2011
Average Customer Review:

For Bulk Orders Call: 626-441-2024

Description and Reviews
From
The Publisher:
A framework for overcoming the six types of innovation killers
Everybody wants innovation—or do they?
Creative People Must Be Stopped
shows how individuals and organizations sabotage their own best intentions to encourage "outside the box" thinking. It shows that the antidote to this self-defeating behavior is to identify which of the six major types of constraints are hindering innovation: individual, group, organizational, industry-wide, societal, or technological. Once innovators and other leaders understand exactly which constraints are working against them and how to overcome them, they can create conditions that foster innovation instead of stopping it in its tracks.
The author's model of constraints on innovation integrates insights from the vast literature on innovation with his own observations of hundreds of organizations. The book is filled with assessments, tools, and real-world examples.
The author's research has been featured in the New York Times, Wall Street Journal, London Guardian and San Jose Mercury News, as well as on Fox News and on NPR's Marketplace
Includes illustrative examples from leading organizations
Offers a practical guide for bringing new ideas to fruition even within a previously rigid organizational culture
This book gives people in organizations the conceptual framework and practical information they need to innovate successfully.
"Why do so many organizations continue to kill good ideas and to fail in their innovation attempts despite this wealth of research and advice?"—From the Introduction
While most organizations give lip service to promoting innovation and creative ideas, they all too often sabotage "outside-the-box" thinking among the rank and file. In this book, David Owens has identified the six dominant types of constraints (individual, group, organizational, industry-wide, societal, and technological) that can keep creative new ideas from being formulated, developed into marketable products and services, or adopted by the intended users.
Creative People Must Be Stopped
organizes these innovation killers into a conceptual framework that demystifies what innovationis, how it happens, and how we stop it without even trying. This proven framework has been usedto diagnose the primary causesof innovation failure within hundreds of organizations that have gone onto develop strategies that foster innovation rather than stopping it in its tracks.
Filled with illustrative examples from real-world organizations, the book explores each type of constraint in detail and shows how it operates and why. This analysis is followed by a discussion of ways that particular constraints can be overcome. Every chapter concludes with a "Constraints Diagnostic Survey." These asessments are based on Owens's research and consulting work, and they provide a pointer to the most urgent and potentially limiting constraints an organization may be facing. In addition,
Creative People Must Be Stopped
contains an exercise tool designed to help move leaders toward action to overcome the constraints that have been identified. Owens also explores the big-picture issues that can arise when spearheading an innovation team and discusses the steps needed to help organizations become more strategic about innovation.
Creative People Must Be Stopped
gives leaders the tools they need to foster an atmosphere of creativity and innovation.

Reviews
"Innovation is about asking the right questions! Dave Owens describes a fresh way to ask and answer the questions that really make a difference in successful innovation."
—Chad Holliday, chairman, Bank of America; retired chairman and CEO, DuPont
"Ever wonder why your company can't seem to succeed at breakthrough innovation? Or why your team's big idea never goes anywhere? Or why you aren't able to generate more creative solutions to problems? Creative People Must Be Stopped will help you answer these questions, diagnose what's behind these underperformances, and get unstuck. Combining solid insights and theory with practical approaches and compelling stories, Owens brings clarity to a topic that is often misunderstood."
—Todd A. McCullough, partner, Monitor Group; adjunct faculty, Institute ofDesign at Illinois Institute of Technology; managing director, Doblin Inc.
"Owens writes as he teaches, with humor, candor, and surprisingly sophisticated theoretical underpinning. The result is an engaging and very accessible book filled with practical tools for leaders interested in advancing their innovation agendas."
—Lisa C. King, vice president, insights and innovation, Newell Rubbermaid
"This is essential and timely reading for leaders in the field of arts and culture. Dave Owens is able to clearly convey the barriers to innovation and how to overcome them. His insights about how to make good ideas actually result in positive change are invaluable to any leader seeking to strengthen an organization, and offer a fresh and clarifying approach to the whole concept of innovation."
—Russell Willis Taylor, president and CEO, National Arts Strategies
"Creative People Must Be Stopped explores why so many great ideas never make it to market, and why some do. It is rich in real-world examples and provides straightforward tools to unleash your innovation potential. It is essential reading for anyone who thinks that they might have something to do with innovation, and especially for those who don't."
—Neil A. Willcocks, vice president, research and development, Mars Petcare

About the Author
David A. Owens
is professor at Vanderbilt's Graduate School of Management. He specializes in management, innovation, and product design, and has been featured in the New York Times, Wall Street Journal, Fox News, and NPR's Marketplace. Recently he served as CEO of Griffin Technology Inc.