Unmistakable
: Why Only Is Better Than Best
Srinivas Rao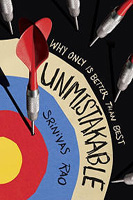 Format:
Hardcover, 224pp.
ISBN:
9781101981702
Publisher:
Portfolio
Publication Date:
August 2, 2016
Average Customer Review:

For Bulk Orders Call: 626-441-2024

Description and Reviews
From
The Publisher:
Stop trying to beat everyone else. True success is playing by your own rules, creating work that no one can replicate. Don't be the best, be the
only
.
You're on the conventional path, checking off accomplishments. You might be doing okay by normal standards, but you still feel restless, bored, and limited.
Srinivas Rao gets it. As a new business school graduate, Srinivas's dreams were crushed by a soulless job that demanded only conformity. Sick of struggling to keep his head above water, Srinivas quit his job and took to the waves, pursuing his dream of learning to surf.
He also found the freedom to chart his own course. Interviewing more than five hundred creative people on his Unmistakable Creative podcast was the ultimate education. He heard how guests including Seth Godin, Elle Luna, Tim Ferriss, Simon Sinek, and Danielle LaPorte blazed their own trails. Srinivas blends his own story with theirs to tell you: You can find that courage too. Don't be just one among many—be the only. Be unmistakable.
Trying to be the best will chain you to others' definition of success. Unmistakable work, on the other hand, could only have been created by one person, so competition is irrelevant. Like Banksy's art or Tim Burton's films, unmistakable work needs no signature and has no precedent.
Whether you're a business owner, an artist, or just someone who wants to leave your mark on the world,
Unmistakable
will inspire you to create your own path and define your own success.

Reviews
"If you're interested in short-term fame and fleeting status, you're better off with reality TV and the latest social network. But if you want to change the world, this book will inspire, encourage, and equip you. The stories are powerful and the advice is rock solid."
—Chris Guillebeau, author of Born for This and The $100 Startup
"High-octane self-motivation is the foundation of any creative or entrepreneurial enterprise. Srinivas Rao's Unmistakable is the foundation of that foundation. Read it!"
—Steven Pressfield, author of The War of Art
"Srinivas has written an engaging, inspiring, passion-filled permission slip for you to speak and live your truth. Which is the only true currency we have in this fast-moving, competitive world."
—Pamela Slim, author of Body of Work and Escape from Cubicle Nation
"Rao provides a fascinating deconstruction of the factors, mindsets, and habits that must all combine to create an unmistakable life."
—Cal Newport, author of Deep Work
"Several years ago, I got a request to go on Srinivas's podcast. It was a small show then but in the years since, I've seen it grow into one of the biggest and best shows around and watched the creator become a bestselling author and an inspiring leader. How did he do it? By following the exact 'unmistakable' formula laid out in this book."
—Ryan Holiday, author of The Obstacle Is the Way and Ego Is the Enemy
"This book is a wonderfully concise collection of insights from edgy thought leaders mixed with Rao's own personal narrative. His struggles, his breakthroughs, and his relationship with surfing, as a sanctuary and a metaphor for inspiration, will inspire you in turn to tap into your own unmistakable work. Congratulations, Srinivas, for writing a soulful, poetic, and accessible little book."
—Erik Wahl, artist and author of Unthink

About the Author
Srinivas Rao
is the host and founder of the popular podcast, the Unmistakable Creative, where he's interviewed over five hundred creative people. Former guests on the show include Seth Godin, Elle Luna, Tim Ferriss, Gretchen Rubin, Simon Sinek, Adam Grant, and Danielle LaPorte. His self-published book The Art of Being Unmistakable was a Wall Street Journal bestseller.