Rock Bottom to Rock Star
: Lessons from the Business School of Hard Knocks
Ryan Blair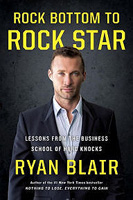 Format:
Hardcover, 256pp.
ISBN:
9781101980552
Publisher:
Portfolio
Publication Date:
October 4, 2016
Average Customer Review:

For Bulk Orders Call: 626-441-2024

Description and Reviews
From
The Publisher:
Can you remember that one time you got recognized or someone thanked you for your contribution to their life? You were a rock star, even for just one second. This book isn't about a charmed path to success or some untouchable fairy tale that nobody can relate to-this is about going from rock bottom to rock star, something that everybody can relate to.
In his first book, Blair shared the brutally honest story of how he went from an at-risk youth, sleeping on a mattress on the floor of a shack, to a self-made multimillionaire by his early twenties. As his story became a national sensation, fans started asking him how they too could become entrepreneurs, take their careers to the next level, and achieve financial freedom.
Rock Bottom to Rock Star
answers those questions.
Blair has battled extreme obstacles: life as a former gang member, balancing a demanding career with single parenthood, building and selling multiple companies, and making and losing tens of millions of dollars (sometimes all in one day). He wants to help others avoid the mistakes he made in the school of hard knocks, so he has compiled his unique advice for going from rock bottom to rock star in whatever filed you chose to pursue.
Much of his advice is counterintuitive, and definitely not what you would learn in business school. Here's one example:
"Don't believe your own hype. The moment you start celebrating, you've left the stage. It wasn't celebration that made you a rock star. It was hard work."
If you're serious about making the most of your life and you're ready to become the "rock star next door" instead of just looking up to them, this may be the most rewarding book you'll ever read.

Reviews
"I've known Ryan for quite some time, but I had no idea what it took for him to become the rockstar that he is. Whether you're at the bottom or on your journey to the top, Ryan Blair's been there and can show you the way."
—LEWIS HOWES, author of The School of Greatness
"Having trouble finding the energy and purpose you know you have inside you? This book is one story after another on the practical actions you can take to start transforming into the rock star leader you want to be."
—JOHN C. MAXWELL, author of The 21 Irrefutable Laws of Leadership
"At one point in his life, Ryan Blair was driving a fancy car but collecting change out of couches to gas it up. It's just one of the important lessons this book teaches you: you're always one moment away from a triumph or disaster, and you have to be ready for all of it."
—BEN MEZRICH, author of Bringing Down the House and The Accidental Billionaires
"Not everyone at the top went to an Ivy League school to get there, so don't let your life so far keep you from getting the life you want. I learned that, and so much more, from this impactful book."
—TERRENCE J., TV personality and author of The Wealth of My Mother's Wisdom
"Ryan Blair mastered his chosen life path...on his own terms. This book gives you the chance to watch him in action, and inspires you to find your own road to success."
—LILLY SINGH, actress
"Ryan Blair has made himself totally transparent in reaching out to help others. He turned his life around by not blaming anyone and is the paramount example of the impossible being what nobody can do until somebody does it, and he chose to be that somebody."
—DALE BROWN, head basketball coach, Louisiana State University, 1972–1997

About the Author
Ryan Blair
is a serial entrepreneur who established his first company at age twenty-one and has since created and actively invested in multiple start-ups. As the CEO of ViSalus, he took the company from start-up to more than $1.6 biillion in cumulative sales, and was named Ernst & Young's 2012 Entrepreneur of the Year. His first book, Nothing to Lose, Everything to Gain, was a number one New York Times bestseller. He lives in Los Angeles.