Admired
: 21 Ways to Double Your Value
Mark C. Thompson and Bonita S. Thompson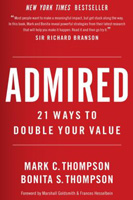 Format:
Hardcover, 000 pp.
ISBN:
9780988224582
Publisher:
Evolve Publishing
Pub. Date:
January 10, 2013
Average Customer Review:

For Bulk Orders Call: 626-441-2024

Description and Reviews
From
The Publisher:
You deserve to be valued, respected, and admired for what matters to you. Here are twenty-one ways to make it happen.
"Imagine how it would feel to be fully valued for what you do best. What if your boss, your customers, and your family really appreciated what you have to offer? How proud would you be if your organization won the top spot among Fortune Magazine's 'Most Admired Companies?' What if Jim Collins rated you a 'Level 5 leader?'
In this book, you'll find 21 simple and powerful strategies that will help you become more valued in a crowded and competitive world—not in a superficial way or just for its own sake—but for what matters most to you and to the most valuable people (MVPs) in your life and work." —From the Foreword by Frances Hesselbein and Marshall Goldsmith

Reviews
"Most people want to make a meaningful impact, but get stuck along the way. In this book, Mark and Bonita reveal powerful strategies from their latest research that will help you make it happen. Read it and then go try it."
—Sir Richard Branson
"Admired is a must-read book that shows you how to make a difference to the people who matter most, and have fun doing it!"
—Peter Guber, New York Times bestselling author, CEO of Mandalay Entertainment, and former CEO of Sony Entertainment
"When you get really clear about what's valuable to you and serve it up generously to people who need it—as this book reminds us—you'll be admired as a leader."
—Warren Bennis, bestselling author and Distinguished Professor at USC, and international authority on leadership
"Mark and Bonita offer you a lifetime of business experience helping people double their value to the world. This book addresses life's most critical question: What meaningful thing do you want to be known for giving and doing?"
—Tony Robbins, bestselling author and peak performance coach
"The journey from success to significance is an essential step for every leader. Mark and Bonita's insights inspire leaders to focus on what's valuable and matters most."
—John C. Maxwell, New York Times bestselling author of The 21 Irrefutable Laws of Leadership
"Read this book and instantly double your value in the office."
—Brian Banmiller, CBS News

About the Authors
Mark C. Thompson
is an executive coach and bestselling co-author of Now, Build a Great Business and Success Built to Last. At Stanford University, Mark was a founding advisor to the Real-Time Venture Design Lab, where he earned his graduate degree in social media. He is also a founding patron of Sir Richard Branson's Entrepreneurship Centres and a founding board member of the John F. Kennedy University Institute for Entrepreneurial Leadership, where he received the institute's first-ever Lifetime Achievement Award. Mark was Chief Customer Experience Officer and Executive Producer of Schwab.com, and Chief Communications Officer reporting to founder Charles "Chuck" Schwab. He is a founding board member of Smule.com, the top Android and Apple social media app creator; and he has coproduced Broadway shows with Disney that have earned five Tony Awards. Forbes magazine called Mark one of America's top venture investors with the "Midas" touch.
Bonita S. Thompson
has worked 25 years in human resources for global corporations, including Bank of America, Genentech, Levi Strauss, Pacific Telesis, Varian, and Catellus. She is a member of the Board of Governors of the Hesselbein Institute (formerly Peter F. Drucker Foundation for Nonprofit Management). She lectures globally and has taught leadership at John F. Kennedy University. She was Director of Research for Stanford professor Jerry Porras (and coauthors Thompson and Emery) on Success Built to Last, the sequel to Porras and Collins' Built to Last. Her American Management Association webinar, Double Your Value, is featured as an article in Dr. Marshall Goldsmith's book, Coaching for Leadership, which was described as "the single best collection of writings and writers on executive coaching," according to professor Warren Bennis at USC/Harvard. Bonita is a long-term supporter of the Girl Scouts, Save the Children, the Wheelchair Foundation, and the Center of Independent Learning (COIL), a California charter school where she focuses on educational empowerment for girls.