You're an Executive But Are You a Leader?
The Executive's Simple Guide to Creating, Communicating and Achieving the Vision
Sonya Shelton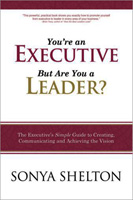 Format:
Hardcover, 163pp.
ISBN:
9780984677207
Publisher:
Being Present, Inc.
Pub. Date:
April 10, 2012
Average Customer Review:

For Bulk Orders Call: 626-441-2024

Description and Reviews
From
The Publisher:
What's the difference between an executive and a leader? In today's business environment, it's no longer enough for executives to lead by the power of their position. If executives want their organizations to succeed, they need to be leaders.
You're an Executive, But Are You a Leader?
reveals 50 simple, no-nonsense strategies vital to creating, communicating, and ultimately achieving the vision.
The top three ways executives can become great leaders in their organization are to:
Create a vision for the future of the organization
Communicate the vision nonstop so everyone in the organization knows where they're going and why
Align every aspect of the organization from the systems to the processes to how the organization is structured

Reviews
"This powerful, practical book shows you exactly how to promote yourself from executive to leader in every area of your business."
—Brian Tracy author of "How the Best Leaders Lead"
"Sonya Shelton provides a practical and powerful guide for executives to develop exceptional organizations and effectively lead them to greatness."
—Governor Bill Richardson
"I highly recommend learning and mastering Sonya Shelton's leadership principles. Whether you work in the private or public sector, you will make a huge difference in your organization."
— Manuel Lujan, former U.S. Secretary of the Interior
"Sonya Shelton's clear, straightforward leadership strategies provide a simple roadmap that achieves extraordinary results!"
—Carol Davis-Fernald, former Vice President, Corporate Human Resources, The Walt Disney Company
"Just because you have a title and hold a position does not mean you are a leader. Read this brilliant book by my friend Sonya Shelton. She is a master consultant whose strategies can help you become an outstanding leader!"
—James Malinchak, featured on ABC's Hit TV Show, "Secret Millionaire" and Founder, www.BigMoneySpeaker.com
"Sonya Shelton's views on leadership come from a place of deep commitment and hard-won experience. Her learnings demonstrate how executives can be good leaders and good managers."
—Chris Worley, Senior Research Scientist, Center for Effective Organizations, University of Southern California and Professor of Management, Pepperdine University
"Sonya Shelton's simple, no-nonsense approach shows executives how to successfully take your organization's vision from idea to reality."
—Dave W. Anderson, Founder of Famous Dave's of America

About the Author
International speaker and consultant
Sonya Shelton
is the CEO and founder of Executive Leadership Consulting, which specializes in teaching managers and executives how to increase their leadership effectiveness so they can realize their professional and personal goals. She spends her renewal time learning new things, exploring the world, and teaching and practicing Zen meditation. She lives in Los Angeles, California.