Optimizing Luck
: What the Passion to Succeed in Space Can Teach Business Leaders on Earth
Thomas Meylan and Terry Teays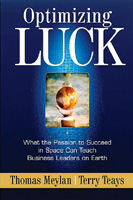 Format:
Hardcover, 192pp.
ISBN:
9780891062226
Publisher:
Davies-Black Publishing
Pub. Date:
November 25, 2007
Average Customer Review:

For Bulk Orders Call: 626-441-2024

Description and Reviews
From
The Publisher:
Optimizing Luck
tells the story of one 20-year NASA project that, by any measure, illustrates just such a business model for capitalizing on every potential advantage that comes your way.
Charged with running science operations for NASA, Meylan and Teays played an integral part in one of the most successful and longest-lasting astronomy satellite projects in NASA's history. Here, these scientists-turned-managers share how passionate dedication to quality, customer service, and the ideal of success helped a team of ordinary workers achieve sustained growth, market penetration, customer satisfaction, and production efficiency to become the employer of choice within the industry. From hiring and delegation to communication and rewards,
Optimizing Luck
lays out best practices for developing luck-optimizing competencies across the entire workforce. For leaders and managers in any business, this in-depth profile offers powerful lessons on what it takes to succeed--regardless of changing circumstances, competitive interference, breakdowns in process, and more than the occasional human failing.

Reviews
"Luck can be a factor in many human activities, but one would not normally expect it to play much of a role in the high-technology business of space exploration. The authors show how often it plays a role not just there but also in more down-to-earth companies. They show how to recognize this luck for what it is and, even better, how the reader can not only nurture his or her business environment to enhance the possibility of luck but take full advantage of it when it occurs."
—Dr. James Kalshoven, NASA Emeritus, small business innovation research program technology manager
"
Optimizing Luck
provides a strong foundation for building an adaptable culture that can foster the open-mindedness necessary to embrace change, allowing companies to fully realize the opportunities that are presented to them."
—Cynthia Gilmer, President and Founder, Opus Plus, Inc.
"
Optimizing Luck
has an analytic approach in the beginning and emotional strategies by the end. Luck can be optimized and built into your process. I am an emotional team builder, and this book supported my belief and challenged my analytical process of teamwork and successful business strategies. Read the whole book, and you'll get your money's worth."
—Trenton Hightower, Assistant Vice Chancellor, Virginia Community College Systems
"My take-away from the book is that there is good news and bad news. The bad news is that we, as business leaders, can't just sit and wait for luck to come our way. To make the most of our business opportunities takes a combination of luck and hard work. The good news is that after reading
Optimizing Luck
, you'll have what it takes to make the most of that hard work. I look forward to putting these tips into practice for my organization."
—Julia J. Loughran, President, Thoughtlink, Inc.
"Meylan and Teays provide an inspirational lesson on how to establish a culture of working together to optimize luck and mitigate risk. They provide insight into how to adapt these practices to general business cultures to establish more productive and satisfying work environments.
Optimizing Luck
is a must read for anyone trying to establish a successful business culture."
—Gene Allen, coauthor, "Collaborative R&D;" Director of Collaborative Development, MSC Software
>


Reader's Index
Send us your favorite quotes or passages from this book
.
• "Differences in levels of success often come down to differences in personal habits. People employ decades-old systems of habits to get through the day. However, most people put no special thought into developing these systems. They pick up a few tricks from mom and dad and a few teachers and a lot from their peers, while growing up and going through school. And that's where their habit-developing effort stops." Pg. xvii

About the Authors
Thomas Meylan, PhD
, is founder of Digital Clones, Inc., a leadership training company that specializes in training leaders in the techniques of corporate culture engineering. His EvolvingSuccess(r) brand of business leadership training products and services includes seminars, keynotes, and audio prgrams. Formerly director of the International Ultraviolet Explorer (IUE) satellite's Data Analysis Center at NASA's Goddard Space Flight Center, he is a recipient of three NASA Group Achievement Awards. An expert in evolutionary psychology, he has written extensively on the topic and worked with such clients as the National Cancer Institute and the American Association for the Advancement of Science.
Terry Teays, PhD
, works at Johns Hopkins University, where he is assistant director of the Maryland Space Grant Consortium. An experienced evaluator of science education products and programs, he has served on more than thirty NASA peer review panels. As supervisor of telescope operations and a resident astronomer on the IUE project, he was recognized with several NASA Group Achievement Awards. After IUE, he led teams in a corporate research center, the education branch for the Hubble Space Telescope, and NASA's Origins Education Forum.

Find Items On Similar Subjects

The Halo Effect
... and the Eight Other Business Delusions That Deceive Managers