Results
: Think Less. Achieve More
Jamie Smart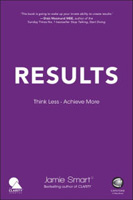 Format:
Paperback, 312pp.
ISBN:
9780857087096
Publisher:
Capstone
Publication Date:
December 12, 2016
Average Customer Review:

For Bulk Orders Call: 626-441-2024

Description and Reviews
From
The Publisher:
Life can be a bit overwhelming sometimes, right? It can be difficult to clear your mind of a million different anxieties and focus in on the one thing you need to get done.
Bestselling author of
Clarity
and
The Little Book of Clarity
goes one step further with Results by using his Clarity Coaching Model to help you de-clog your mind so you can make better decisions, prioritise and focus on achieving those important goals. Develop a deeper understanding of why you act the way you do and awaken your inner potential.
Jamie's transformational coaching techniques will help you improve in all areas of your life, from developing your listening skills during meetings at work to reducing the levels of stress in your life. These techniques will see you through three important changes – your personal transformation that will see you gaining confidence and understanding your own behaviour, your interpersonal transformation to guide you in having an impact on those around you, and lastly your commercial transformation to get your professional life moving in the direction you want.
Results is full of helpful examples and exercises to get you on the road to the results you need.
Learn how to:
• Prioritise and focus on the right goals at the right time
• Achieve the results you want by following the Clarity Coaching Model
• Improve your overall performance to gain better relationships with your colleagues, close friends and family
• Add more purpose to your life by allowing time for creativity and innovation
• Encourage others to follow in your footsteps!

Reviews
A visionary guide to success in the new transformation economy – simple principles, practical applications, and bottom line results.
—Michael Neill, No. 1 bestselling author of The Inside-Out Revolution and The Space Within
Results shows you how to unlock the potential of all individuals and every type of organization.
—Eva Hamilton MBE, Founder and CEO, Key4Life

About the Author
Jamie Smart
is a state-of-mind specialist, a leading trainer speaker, coach and consultant. He has been teaching people how their minds work and how to lead happy successful lives for 13 years.