The Principle of the Path
: How to Get from Where You Are to Where You Want to Be
Andy Stanley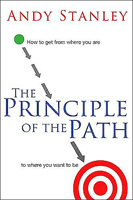 Format:
Hardcover, 176pp.
ISBN:
9780849920608
Publisher:
Thomas Nelson
Pub. Date:
March 31, 2009
Average Customer Review:

For Bulk Orders Call: 626-441-2024

Description and Reviews
From
The Publisher:
Not where you want to be?
Wondering how to get there?
Why is it that smart people with admirable life goals often end up far from where they intended to be? Why is it that so many people start out with a clear mental picture of where they want to be relationally, financially, and professionally and yet years later find themselves far from their desired destination? Why do our expectations about our own future often go unmet?
What if you knew the answer to those questions? What if there was one simple idea that explained why so many people get lost along the way?
There is. It's called
The Principle of the Path
. And not only does it explain the disappointment and regret that characterize the lives of so many, it provides a way for you to be the exception.
The Principle of the Path
is at work in your life every single day. Once embraced, this compelling principle will empower you to identify and follow the path that leads to your desired destination. And this same principle will enable you to avoid life-wasting detours along the way.
Includes Extensive Study Guide.
Your Direction, not Your Intention, Determines Your Destination.
There is often a tension between where we want to end up in life and the path we choose to get there. We fail to see that having good intentions is never good enough. Like Charlie Brown, we wrongly believe there's something to be said for trying hard. We need to understand why, in spite of our good intentions, we may have ended up at the wrong destination with our finances, our marriages, our careers, or a host of other dreams. So how do we get from where we are to where we truly want to be? The Principle of the Path is a road map to proper direction and discipline.

About the Author
Andy Stanley
is founding pastor of North Point Community Church in north Atlanta. He received his master of theology degree from Dallas Theological Seminary. He and his wife, Sandra, are the parents of three children, Andrew, Garrett, and Allie.

Table of Contents
| | | |
| --- | --- | --- |
| | | |
| | Introduction | xi |
| | | |
| 1 | Swamp My Ride | 1 |
| 2 | Why Bad Things Happen To Smart People | 9 |
| 3 | The Great Disconnect | 18 |
| 4 | Should've Seen That Coming | 35 |
| 5 | The Heart of the Matter | 56 |
| 6 | My Italian Job | 76 |
| 7 | The Story You Will Tell | 96 |
| 8 | A Little Help From Our Friends | 115 |
| 9 | Attention Retention | 135 |
| 10 | Road Closed | 156 |
| | | |
| | Epilogue | 174 |
| | Study Guide | 179 |

Find Items On Similar Subjects

Visioneering
: God's Blueprint for Developing and Maintaining Vision

The Next Generation Leader
: Five Essentials for Those Who Will Shape the Future