The Shaping of an Effective Leader
: Eight Formative Principles of Leadership
Gayle D. Beebe with Foreword by Steve Forbes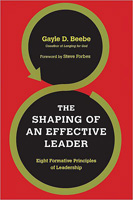 Format:
Paperback, 192pp.
ISBN:
9780830838202
Publisher:
IVP Books
Pub. Date:
January 2, 2012
Average Customer Review:

For Bulk Orders Call: 626-441-2024

Description and Reviews
From
The Publisher:
Leadership is both an art and a science.
We may be tempted to look for a sure-fire formula, but the reality is quite different: effective leaders are exceptional generalists rather than narrow specialists. The best leaders take what the best business experts have to offer, and apply that based on their own abilities, experience and judgment. And these leaders seek real-life mentors and learn from them.
Gayle Beebe, who has spent over a decade as a college president, had the opportunity to study with Peter Drucker, the father of modern management and the author of The Effective Executive. Drawing on Drucker's influence as well as his own years of experiences as a pastor, administrator and president, Beebe has developed a pyramid of leadership principles. The combination of these defines a leader of influence and integrity.
In these pages you'll also meet some of Beebe's other mentors: Steve Sample of USC, Harold A. "Red" Poling of Ford Motor Company, Richard Foster of Renovaré, David McKenna of Asbury Seminary and Bob Emmons of Smart&Final.
In a day of relentless self-direction, strong leaders have a critical role. With this book you can discover what it takes to be effective in your sphere of influence.

Reviews
"Gayle Beebe's book is valuable precisely because it discusses how effective and moral leaders develop. . . . [He] wonderfully applies the insights of Peter Drucker, his former professor and the father of modern management theories."
—From the foreword by Steve Forbes

About the Author
Gayle D. Beebe
(Ph.D., Claremont Graduate University) is president of Westmont College in Santa Barbara, California, and past president of Spring Arbor University in Spring Arbor, Michigan. He serves as one of the general editors for The Renovar— Spiritual Formation Bible. He is also author of The Interpretive Role of the Religious Community in Friedrich Schleiermacher and Josiah Royce and coeditor of Keeping the Concept in the Social and Natural Sciences; Keeping the Concept in the Philosophical, Practical and Productive Arts; A Concept to Keep; and Religion and Its Relevance in Post-Modernism.

Table of Contents
| | | |
| --- | --- | --- |
| | | |
| | Preface: "I Think He Said His Name is Peter" | |
| | | |
| | Introduction: Eight Principles of Effective Leadership | |
| | | |
| | Principle 1: The Necessity of Character: The Foundation of Effective Leadership | |
| | Principle 2: The Importance of Competence: Threshold Competencies and the Essentials of Effective Leadership | |
| | Principle 3: The Advantage of Team Chemistry: The Role of the CEO and the Top Management Team in Creating a Climate of Effectiveness and Success | |
| | Principle 4: The Interplay of Culture and Context: The Dynamic Relationship of Organizational Culture and Environmental Context | |
| | Principle 5: The Strength of Compatibility and Coherence: Discovering the Right Fit | |
| | Principle 6: Leading with Convictions: Making Life's Greatest Impact | |
| | Principle 7: Maintaining Our Connections: Facing Our Greatest Leadership Challenge | |
| | Principle 8: Making an Ultimate Contribution: Discovering Life's Greatest Purpose | |
| | | |
| | Finis: When Our Time Is Up, Making Sure Our Life Has Mattered | |
| | | |
| | Appendix 1: Vices, Virtues and the Leadership Pyramid | |
| | Appendix 2: An Overview of Top Management Work in the Twentieth Century | |
| | Appendix 3: Robert Wuthnow's Eight Spheres of Society | |
| | Acknowledgments | |
| | Notes | |
| | Annotated and General Bibliography | |
| | Index | |