The Leadership Ellipse
: Shaping How We Lead by Who We Are
Robert A. Fryling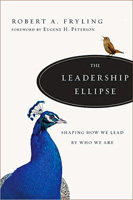 Format:
Paperback, 220pp.
ISBN:
9780830835386
Publisher:
Intervarsity Press
Pub. Date:
February, 8 2010
Average Customer Review:

For Bulk Orders Call: 626-441-2024

Description and Reviews
From
The Publisher:
Everyone in a position of responsibility knows the tension of leadership. It may be between tasks or people, money or mission, the present or the future. One often neglected tension is between our inner spiritual longings and the outward needs of the group we lead.
But we need not feel forced to choose between the two. Leadership has more in common with an ellipse with two focal points than a bull's-eye with a single target.
The Leadership Ellipse
is designed to help Christian leaders embrace both halves of the tension--our internal relationship with God and our external relationship with others--to find a truly authentic, integrated way to lead.
If you find yourself in a lonely, isolated place of leadership, this book can be your companion. If you find yourself longing to lead in a way that is truly Christian, this book can be your guide. And if you are simply exhausted, then this book can offer you a new way to find refreshment. There is life beyond the bull's-eye.

About the Author
Robert A. (Bob) Fryling
is publisher of InterVarsity Press (Westmont, Illinois) and Vice President of InterVarsity Christian Fellowship (Madison, Wisconsin). He writes, speaks and teaches in the areas of spiritual formation, leadership, Christian faith and culture. He lives in Illinois with his wife, Alice, an author and spiritual director. Together they have co-authored three books.

Table of Contents
| | | |
| --- | --- | --- |
| | | |
| | Foreword by Eugene Peterson | 11 |
| | | |
| | Introduction | 15 |
| | | |
| | Part 1 Shaping Our Inner World | |
| 1 | A Weaned Soul: The Practice of Sabbath | 25 |
| 2 | A Growing Strength: The Practice of Pruning | 43 |
| 3 | A Renewed Mind: The Practice of Humble Thought | 61 |
| 4 | A Dancing Heart: The Practice of Involvement | 79 |
| | | |
| | Part 2 Shaping Our Outer World | |
| 5 | In a Frenzied World: The Perspective of Prayer | 99 |
| 6 | In a Lonely World: The Promise of Belonging | 117 |
| 7 | In a Fragmented World: The Pursuit of Shalom | 133 |
| | | |
| | Part 3 Shaping Our Leadership | |
| 8 | As More Than a Grasshopper: The Practice of Wholeheartedness | 153 |
| 9 | As an Organizational Ecologist: The Practice of Attentiveness | 169 |
| 10 | As a Grateful Creature: The Practice of Clarity | 187 |
| | | |
| | Epilogue | 205 |
| | Appendix: InterVarsity Press Purpose and Values Statement | 207 |
| | For Contemplation and Action | 209 |
| | Recommended Reading | 213 |
| | Acknowledgments | 215 |
| | Notes | 217 |