Shift Ahead
: How the Best Companies Stay Relevant in a Fast-Changing World
Allen Adamson and Joel Steckel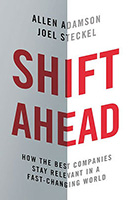 Format:
Hardcover, 272pp.
ISBN:
9780814438336
Publisher:
AMACOM
Pub. Date:
November 9, 2017
Average Customer Review:

For Bulk Orders Call: 626-441-2024

Description and Reviews
From
The Publisher:
When
National Geographic
was slammed with online competition and declining subscriptions, the magazine resisted adapting. In the end, it was taken over by Fox. Forbes Media, in contrast, swiftly reinvented its business model to focus on online platforms and new content creation strategies.
As the world began going paperless, Xerox made a last-minute effort to rebrand as a "solutions company." It stumbled and was soon split into two enterprises. IBM, on the other hand, built on its legacy of change to successfully move from computer vendor into enterprise consulting.
In example after example, shifting markets, customers, competitors, and technology have left organizations struggling to stay relevant. While some become paralyzed, others make bold steps forward. Some bungle their change efforts, but others emerge stronger. What puts them on such different paths?
The authors of
Shift Ahead
interviewed more than 100 executives and experts who lived through change or analyzed the phenomenon, such as MTV and Nickelodeon creator Bob Pittman, Delta Airlines CEO Ed Bastian, New York Times columnist Thomas Friedman, former Ogilvy & Mather chairman Shelly Lazarus, and Conservation International founder Peter Seligmann. They distill those experiences into a set of lessons applicable to any organization, from small startups to nonprofits to multinational corporations, including how to:
• Read the signs that it's time to shift business strategy
• Overcome financial, cultural, and psychological barriers to change
• Get ready for change by financing the effort, adopting the right attitude, and communicating effectively
• Discover what customers really want
• Turn threats into new ways to extend a brand's promise
• Lead an organization through a period of rapid change
• Stay aligned to your "True North"
• And more
Change is difficult. But when new technology can quickly dismantle traditional operations . . . when competitors can appear out of nowhere . . . when trends and tastes constantly fluctuate, organizations need to continually monitor developments and prepare to act. Packed with fascinating first-person accounts and detailed case studies,
Shift Ahead
explains how to recognize when it's time to change direction and pull it off while bolstering the brand.

Reviews
"With the pace of change accelerating at such a dizzying speed, small errors in navigation can come with huge consequences. Businesses that have the skillset to course correct on the fly will be those that succeed."
—Thomas Friedman, columnist for The New York Times and bestselling author of The World is Flat and Thank You for Being Late
"Relevance is about managing the tension between staying attuned to what your customers want, but also staying in tune with who you are as a company and where the world is going. Shift Ahead is an invaluable collection of ideas, tools, and case studies that will help you manage that tension and adapt to the emerging economy with both intelligence and speed."
—Beth Comstock, Vice Chair, GE
"In this brilliant new book, Adamson and Steckel absolutely nail the key issues in moving organizations forward in the right directions and at the right pace. Based on thorough research and a fascinating set of interviews with business leaders from all walks of life, Shift Ahead is a highly entertaining and hugely informative playbook for the savvy top business executive."
—Kevin Keller, Professor of Marketing at the Tuck School of Business, Dartmouth College
"In today's rapidly changing multi-platform and digitally focused environment, it is more difficult than ever for brands to become—and remain—relevant to their consumers. Shift Ahead provides important perspective, offering valuable insight on brands that have successfully made this transition."
—Robert Pittman, Chairman and CEO, IHeartMedia, Inc.

About the Authors
Allen Adamson
is a branding expert, a Forbes.com columnist, and the author of three books including BrandSimple and BrandDigital.
Joel Steckel
is professor of marketing and vice dean of doctoral education at NYU Stern School of Business.