Find the Fire
: Ignite Your Inspiration--and Make Work Exciting Again
Scott Mautz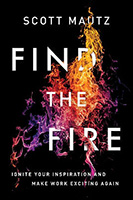 Format:
Hardcover, 240pp.
ISBN:
9780814438220
Publisher:
AMACOM
Pub. Date:
October 12, 2017
Average Customer Review:

For Bulk Orders Call: 626-441-2024

Description and Reviews
From
The Publisher:
Is the thrill gone? What to do when your mojo's missing at work . . .
For many employees, feeling burned out and uninspired is nothing new. But going through the motions impairs more than just work performance—it affects your well-being. Wouldn't it be better to feel as engaged and energized as you were on day one?
Fortunately, everyone has the ability to rekindle inspiration. The key is to quit waiting for it to happen and take control of the process yourself. Whether you're wrestling with fear, disconnectedness, boredom, lack of creative outlets, overwhelm, or other issues, Find the Fire helps shake off the malaise and dial up the motivation.
Packed with insights, exercises, inspiring stories, checklists, and more, this potent self-help guide identifies nine forces that drain inspiration and delivers tips and advice for turning things around, including how to:
Start learning and growing again
• Reconnect with coworkers and your boss
• Stop procrastinating
• Empower yourself
• Stay in control during tough times
• Overcome fear and embrace risk
• Produce work you're proud of
• Boost your self-confidence and personal presence
• Leave your mark
• And more
Instead of asking what inspires you, the deeper question is, how did you lose inspiration in the first place? Learn to find it again—and fuel greater fulfillment and success.

Reviews
"A profound and generous book; a set of ideas that you'll remember (and be inspired by) for a long time to come."
—Seth Godin, author, Linchpin
"A must-have guide for anyone looking to recapture the magic that makes work fulfilling and exciting. Scott writes with humor, knowledge, and passion, showing you how to turn inspiration from lightning-strike events into an everyday occurrence. Scott has cracked the code."
—Marshall Goldsmith, Thinkers50 #1 Leadership Thinker in the World
"This fast-moving book is loaded with great ideas to inspire you to higher and higher levels in your career."
—Brian Tracy, author, The Power of Self-Confidence
"Find the Fire is far more than a written pep talk; it's a powerful, poignant, and practical instruction manual that will teach you how to rekindle passion in your life. Crafted in a style that matches its theme, be prepared for a roller-coaster ride that races you through the full range of your emotions to your rational brain and back again!"
—Chip R. Bell, author, Kaleidoscope: Delivering Innovative Service That Sparkles
"Are you among the masses who've lost their mojo at work? This one-of-a-kind manifesto of the uninspired asks you the powerful question, 'How did you lose your inspiration in the first place?' The answer is eye-opening and the solution is uplifting, insightful, and indispensable. Whether you're a millennial or centennial, Find the Fire is THE must read to reignite your inspiration and make work a joy once again."
—Linda Kaplan Thaler, co-author, Grit to Great
"Are you truly pouring yourself into your work, or just cranking through the day while obsessively checking your watch? In Find the Fire, Scott Mautz expertly shows you how to ignite the flames of inspiration and do the best work of your life."
—Todd Henry, author, The Accidental Creative

About the Author
Scott Mautz
is CEO of Profound Performance and a popular speaker on workplace motivation and engagement. A veteran Procter & Gamble executive and an adjunct professor at Indiana University, he is the author of Make It Matter and a weekly contributor to Inc.