Leadership Step by Step
: Become the Person Others Follow
Joshua Spodek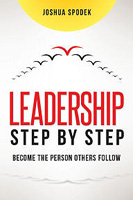 Format:
Hardcover, 256pp.
ISBN:
9780814437933
Publisher:
AMACOM
Pub. Date:
February 16, 2017
Average Customer Review:

For Bulk Orders Call: 626-441-2024

Description and Reviews
From
The Publisher:
Leadership literature is full of principles and ideas—but they rarely leave the page. Practice is what turns abstract concepts into useful skills.
Leadership Step by Step
walks readers through what to do and how to do it in an integrated and comprehensive progression of exercises designed to cultivate key abilities, behaviors, and beliefs through experience. The 22 exercises in this hands-on book help you accomplish the inner work and gain the social skills required for great leadership.
Each chapter opens with a story demonstrating a leadership skill—and then guides you through the process of developing it. From basic solo assignments to advanced leadership practices, you'll learn to:
• Build self-awareness
• Manage emotions
• Speak in your authentic voice
• Create meaningful connections
• Inspire others
• Lead with empathy
• Support teammates
• And more
Powerful and practical,
Leadership Step by Step
will start you on the road to success.

Reviews
"This is practical leadership training made perfect. Bravo!"
—Booklist, starred review
"In Leadership Step by Step, Joshua Spodek fills the gap between education and experience for potential leaders. By treating leadership like the art it is, he imbues it with empathy and understanding. This is a book that will improve your business savvy and possibly, your life."
—Daniel H. Pink, author of DRIVE and A WHOLE NEW MIND
"A hands on, useful, urgent book about leveling up as a leader."
—Seth Godin, bestselling author and founder of altMBA
"Leadership Step by Step offers that rare breed of learning—genuine, authentic, effective, engaging, and, most of all, fun. It is based on the best leadership philosophy and practice.The results of doing its exercises insure that you will become an authentic, great leader, able to serve and to live to the best of your ability. Anyone who aspires to lead, to lead more effectively, or to live life to its fullest would benefit from Joshua's exercises."
—Frances Hesselbein, Presidential Medal of Freedom Honoree, CEO of Girl Scouts, named "Best leader in America" by Peter Drucker
"Joshua is changing the game for leadership development and creating positive change. His insight to give a progression of exercises to practice is a once-in-a-lifetime game-changing advance in our field everyone else will follow. It's better than business school courses because he has you create real positive change that lasts. Leadership is about doing, not just understanding, and Joshua's exercises give you both. Leadership Step by Step gets it. Do its exercises and you will too."
—Marshall Goldsmith, 2015 #1 Leadership Thinker and #1 Executive Coach in the World, New York, Times bestselling author of Triggers
"Refreshingly different and thoroughly practical, Leadership Step by Step serves up valuable tools for readers to build their own path to development. The book weaves back and forth between brief, engaging stories and seemingly simple exercises. But the cumulative effect can be profound, helping readers focus on and sometimes rewrite their own habits of thought and action that were previously invisible."
—Daniel Ames, Columbia Business School Professor, Management Division
"In a fresh approach to the topic, Josh Spodek guides his readers on an experiential journey, through a progression of exercises that reveal the inner psychology of leadership and that impart critical skills."
—Michael W. Morris, Chavkin-Chang Chair, Professor of Leadership, and founder of the Leadership Lab at Columbia Business School

About the Author
Joshua Spodek
is an Adjunct Professor at NYU, a leadership coach and lecturer for Columbia Business School, and a columnist for Inc. He holds six patents and five Ivy-League degrees, including an MBA and a Ph.D. in Astrophysics. Named one of the "Best and Brightest" by Esquire in their Genius Issue, he has been featured in The New York Times, The Wall Street Journal, USA Today, Newsweek, Forbes, and other major media.