Extreme Teams
: Why Pixar, Netflix, Airbnb, and Other Cutting-Edge Companies Succeed Where Most Fail
Robert Bruce Shaw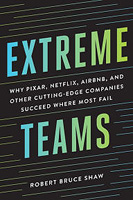 Format:
Hardcover, 256pp.
ISBN:
9780814437179
Publisher:
AMACOM
Pub. Date:
February 16, 2017
Average Customer Review:

For Bulk Orders Call: 626-441-2024

Description and Reviews
From
The Publisher:
Great achievements are almost always the work of great teams. But most leaders rely on decades-old ideas and practices about teams. Times change and so must our teams. Those who cling to outdated views of teamwork and team building will be left behind. So what do you need to do to create a team that can successfully face the challenges of today's world?
To answer that question, Robert Bruce Shaw examines the work practices of innovative high-growth companies such as Whole Foods, Pixar, and Netflix. These firms became ground-breaking leaders in their industries, in part, by boldly rewriting the rules of teamwork. Extreme Teams provides a detailed analysis of how the leaders at these companies think and operate-and, in particular, describes their approaches for creating high energy teams that deliver extraordinary results. You will learn in
Extreme Teams
:
• How Alibaba strives to hire the right people-not the best people
• Why co-workers determine if you stay or go at Whole Foods
• The benefit to Airbnb team members determining the projects on which they work
• How employees at Patagonia have control over their work and play hours
• What Pixar does to avoid repeating what worked for it in the past
• Why Netflix rewards average performance with a generous severance package
• What will get you fired at Zappos-and it's not what you think

Reviews
"There is a new generation of firms experimenting with bold new ways of using teams, and in Extreme Teams Robert Shaw shows how they do it. Through his masterful storytelling and engaging analysis, Shaw offers revealing insights and practical lessons for team leaders who want their own groups to perform at much higher levels. Extreme Teams is a powerhouse book and a fascinating inside look at what it takes to be innovative in how we design and manage teams in the age of disruption. The stories alone are worth the price of the book; the payoff you'll get from putting the lessons to work makes Extreme Teams invaluable."
—Jim Kouzes, coauthor of the bestselling business classic, The Leadership Challenge, and the Dean's Executive Fellow of Leadership, Leavey School of Business, Santa Clara University
"Putting together a great team may seem like catching lightning in a bottle, but the truth is that you can build one. You just need the right guide, and that's Shaw's Extreme Teams. Packed with real-world examples, Extreme Teams equips you with the priorities and knowledge you need to build outstanding teams that can disrupt your business in all the right ways! Outstanding!"
—Marshall Goldsmith, bestselling author or editor of 35 books, including What Got You Here Won't Get You There and Triggers
"The best companies rely on teams to deliver the results they need. But too many leaders underestimate the creativity and persistence needed to design and manage teams effectively. Extreme Teams describes how innovative companies are pushing the boundaries in regard to teams. A fascinating study of innovation that vividly illustrates the future of teamwork. Highly recommended for leaders who want to create a culture that fosters superior team performance in their own organizations."
—Linda P. Hudson, Chairman and CEO of The Cardea Group; former President and CEO of BAE Systems Inc. and Chief Operating Officer, BAE Systems plc
"Cutting-edge organizations are constantly experimenting with creative approaches to team building. Extreme Teams shares their success practices, and we learn how to fully ignite the performance and results of our own teams."
—Frances Hesselbein, Office of the President and CEO, The Frances Hesselbein Leadership Institute; Editor-in-Chief of the award-winning quarterly, Leader to Leader

About the Author
Robert Bruce Shaw
assists business leaders in building organizations and teams capable of superior performance. His specialty is working closely with senior executives, as individuals and as groups, on organizational and leadership effectiveness. Robert works with leaders in new positions to help them transition into their roles and with longer-tenured leaders seeking to enhance their impact.
Robert's clients span a variety of industries including pharmaceuticals, financial services, telecommunications, industrial products, defense, power utilities and consumer goods. Robert holds a Ph.D. in Organizational Behavior from Yale University. He has authored or co-authored books and articles on organizational and leadership performance including Trust in the Balance: Building Successful Organizations on Results, Integrity and Concern; Discontinuous Change: Leading Organizational Transformation and Organizational Architecture: Designs for Changing Organizations. Recent articles include Developing Peripheral Vision, Organizational Bystanders and Changing Culture.