The Optimistic Workplace
: Creating an Environment That Energizes Everyone
Shawn Murphy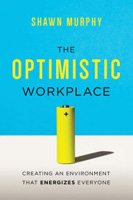 Format:
Hardcover, 240pp.
ISBN:
9780814436196
Publisher:
AMACOM
Pub. Date:
October 28, 2015
Average Customer Review:

For Bulk Orders Call: 626-441-2024

Description and Reviews
From
The Publisher:
A lot of organizations say they're "upbeat." They claim their offices are "fun," and "relaxed." A quick look around, however, usually reveals a dusty foosball table and the same old hamster wheel mentality.
But what if you could transform your workplace into an environment where everyone is truly engaged, motivated, and positive? What if you could increase problem-solving ability, reduce stress and infighting, limit turnover, and boost productivity? And what if you could do all this at virtually no cost?
Welcome to The Optimistic Workplace.
This is not just another feel-good book. Drawing on the latest research from social science and organizational psychology, it offers detailed examples from companies large and small that have created positive workplaces. It gives you real tools to help you identify and measure the attributes not just of a theoretically ideal workplace, but of your ideal workplace.
You'll also learn how to:
• Overcome skepticism about cultivating workplace optimism
• Turn work into a fulfilling part of employees' lives
• Strengthen and redefine the relationship between leader and employee
• Unleash people's potential to do great work
• Create a pocket of excellence even in uninspired workplaces
• Help your team find meaning and purpose beyond quotas, deadlines, and numbers
The Optimistic Workplace includes a step-by-step breakdown of how to personalize the lessons in the book for your situation through the processes of:
Planning
: The first 30 days, in which you assess opportunities, identify needs, anticipate obstacles, and communicate goals and your vision for reaching them.
Implementation
: The next 30 days, during which you collaboratively create the desired feel of the workplace, sketch out a plan for increased optimism, and identify ways to measure your progress.
Monitoring
: The final 30-day period is for continuous evaluation of attitudes and progress, adjustments based on collaborative experience, and analysis of results.
As a manager of people and processes, it's too easy to think of yourself as just one in a collection of moving parts. What you really are is a steward, a guide who mentors, motivates, supports, and partners with your team members. And yes, you care about them and their experience in your workplace. An environment where this care is on display every day is one in which people want to succeed—and so they will.

About the Author
Shawn Murphy
is an independent consultant with 20 years of experience helping organizations create workplace optimism. He is the cofounder and CEO of Switch & Shift, a company dedicated to helping leaders shift their mindsets about their role in creating positive workplaces. The Huffington Post listed Shawn as a top leadership blogger and influential HR expert on Twitter in 2013, and HR Examiner named him a Top Trend-spotter in HR in 2012. He has been named as a Top 100 leadership speaker by Inc.com.