When the Pressure's On
: The Secret to Winning When You Can't Afford to Lose
Louis S. Csoka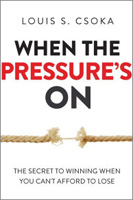 Format:
Hardcover, 224pp.
ISBN:
9780814436103
Publisher:
AMACOM
Publication Date:
May 16, 2016
Average Customer Review:

For Bulk Orders Call: 626-441-2024

Description and Reviews
From
The Publisher:
When "Sully" Sullenberger's plane lost both engines after a takeoff bird strike, the pilot calmly landed the disabled plane in the icy Hudson.
When General Eisenhower faced stormy weather on the Normandy coast, he patiently assessed the forecast and picked an optimal time for launching the D-Day invasion.
When a young Bill Gates and his nascent opera-ting system were rejected by IBM, he didn't flinch. His company would eventually take IBM's place.
How can you also perform as adeptly under extreme duress, whether you're managing a crisis, meeting tight deadlines, or delivering a high-stakes presentation? More than talent, more than education, even more than bravery, what you need to excel is better mental strength.
Unlocking the secrets of winning athletes and elite military units,
When the Pressure's On
identifies the five skills they all use to power through stress, and offers you a conditioning program to develop each one:
1. Goal Setting
—become mission-driven, pinpointing goals that engage the heart and mind
2. Adaptive Thinking
—replace negative thoughts with positive ones, and be open to new ideas
3. Stress/Energy Management
—keep your cool no matter what, and know how to trigger a relaxation response
4. Attention Control
—maintain focus despite distractions, from technology overload to constant interruptions
5. Imagery
—use the creative side of your brain to envision future scenarios and picture yourself reaching your goals
Drawing on decades of research, Louis S. Csoka offers you peak performance techniques, examples, assessments, and the latest insights from the fields of biofeedback and neuroscience that will make the five-point training program clear and easy to perform. His simple exercises will strengthen parts of the brain you didn't even know existed, rewiring your stress responses and helping you exert calm and clear-headed leadership in every situation.
Panicking or cracking under pressure can wreck your career.
When the Pressure's On
will change the way you handle challenging situations and bring out your true leadership potential.

About the Author
Louis S. Csoka
has specialized in teaching performance under pressure for more than 30 years. He is President of Apex Performance, which trains clients ranging from Fortune 500 companies to professional athletes. As a Professor of Psychology & Leadership at West Point, he adapted sports psychology to the demands of the military and founded the school's pioneering Center for Enhanced Performance.