The Hidden Leader
: Discover and Develop Greatness Within Your Company
Scott K. Edinger and Laurie Sain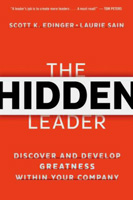 Format:
Hardcover, 240pp.
ISBN:
9780814433997
Publisher:
AMACOM
Pub. Date:
February 4, 2015
Average Customer Review:

For Bulk Orders Call: 626-441-2024

Description and Reviews
From
The Publisher:
Think you can spot the leaders in your company? Don't assume that you can identify them by their positions. What about those employees who consistently step up: the field agent who solves a previously intractable problem; the service rep who thinks outside the box and creates unshakeable customer loyalty. These are more than "good employees". . . these are "hidden leaders". . . and they are critical to an organization's long-term success.
Managers today need to make the most of all their resources—and
The Hidden Leader
shows them how to recognize and cultivate these talented but under utilized employees, who:
Demonstrate integrity • Lead through authentic relationships • Focus on results • Work from clear customer purpose • Fulfill the value promise of the company
Supported by real-world examples of hidden leaders in action—and QR codes readers can scan for instant access to online assessments—the book helps managers discover these secret saviors and enable them to deliver even greater value to customers.
Traditional leadership succession can mean plucking out the most confident extroverts and grooming them for management.
But there's nothing traditional about business today. Staying relevant is a constant struggle, requiring ideas, effort, and excellence from every corner of the organization. Luckily, this grassroots leadership is already in place, just waiting to be activated.
The Hidden Leader casts a fresh eye of what it means to be a leader, with insights on how to locate and nurture the people who take initiative, act courageously, and get the job done right. These are the hidden leaders whose everyday performances deliver the competitive advantage you need.
With its systematic approach, real-life examples and scenarios, and full range of development tools--instantly accessible with QR codes embedded in the text--The Hidden Leader explains how to:
Discover the exceptional people in your midst, whose strength emanates from four key behaviors and traits--integrity, authentic relationships, results orientation, and consistent customer focus
Cultivate their leadership capacities by developing each characteristic and building a culture that enables these employees to thrive
Deploy leaders across the ranks, training some as managers and recognizing others as crucial frontline employees
Hidden leaders are highly visible to coworkers and supervisors, who value their insights and output. Yet they often operate beneath management's radar. By expanding the notion of leadership,
The Hidden Leader
helps you embrace these vital contributors and give them the power to drive your company's long-term success.

Reviews
"Leaders come in all shapes and sizes, and sometimes where you least expect to find them. We often look upward to position and title for leadership, but Edinger and Sain explain how to find it everywhere in your company, from the front line to supervisors and managers who aren't traditionally thought of as company leaders. I hear a lot of CEOs talk about not having enough true leaders in their business . . . The Hidden Leader will show you how to find and develop them everywhere."
—Joe Brancucci, President and CEO, GTE Financial
"Having every employee in a company behave like an owner is a competitive advantage, and the keys to making that happen are found in The Hidden Leader. If you are interested in creating a culture where leadership flourishes in every part of your business, read this book."
—Jake Orville, President and CEO, Cleveland HeartLab
"Finally a book that illustrates what we have been teaching: You don't have to be in a formal leadership role or have a leadership title to be a leader. The insights delivered in The Hidden Leader provide clarity about how to identify and develop leadership skills at all levels of an organization, not only at the top."
—Mary B. Coburn, Vice President for Student Affairs, Florida State University
"Too often leaders focus only on their senior managers. Edinger and Sain have recognized the value of leaders at all levels of the business. The Hidden Leader makes leadership accessible and beneficial for everyone, regardless of their position or title."
—Joe Robinson, President, Catapult

About the Authors
Scott K. Edinger is founder of the Edinger Consulting Group, blogs for Harvard Business Review and Forbes, and is coauthor of The Inspiring Leader. He is a recognized expert in helping organizations achieve measurable business results. Prior to starting his consulting firm, Scott served as executive vice president for the leadership consultancy Zenger Folkman and as senior vice president of sales for Huthwaite. He lives in Tampa, Florida.
Laurie Sain is a professional writer and consultant whose clients span virtually every major industry and include Fortune 1,000 companies such as Apple, IBM, the Union Pacific, Weyerhauser, and Charles Schwab Corporation. Laurie leads clients through strategic planning at the conceptual level, and then develops realistic executive and frontline solutions that enable each company's vision to thrive. Former director of content for Ninth House Network, Laurie lives in Lander, Wyoming.