The Star Factor
: Discover What Your Top Performers Do Differently—and Inspire a New Level of Greatness in All
William Seidman and Richard Grbavac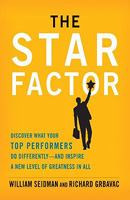 Format:
Hardcover, 240pp.
ISBN:
9780814433201
Publisher:
AMACOM
Pub. Date:
December 3, 2013
Average Customer Review:

For Bulk Orders Call: 626-441-2024

Description and Reviews
From
The Publisher:
In every company, a select few produce more, sell more, and deliver better results. These stellar performers consistently outshine their peers—and achieve more than most would believe possible. If only these people could be cloned! The Star Factor delivers the next best thing: a unique system for unlocking their wisdom, transforming that knowledge into actionable steps, and helping other employees internalize these new attitudes and behaviors, bringing much-needed change to the whole organization.
The Star Factor
's proven Affirmative Leadership methodology helps executives, managers, and trainers tease out the attitudes, behaviors, and actions that form the core of their stars' performance. You'll discover how to turn their own words into a learning program that can be personalized for each employee, how to create global programs that feel like local change initiatives, and how to make the learning stick to create a leadership-rich environment.
Affirmative Leadership has already produced astonishing results for companies in a range of industries: The world's largest semiconductor manufacturer doubled its accuracy rate for inventory management forecasting; and a top fast food chain dramatically reduced its employee turnover.
Based on years of experience applying the model in hundreds of organizations and informed by Dr. Seidman's Stanford research and the latest findings on the neuroscience of how people think and learn,
The Star Factor
's predictable, consistent, and low-cost approach to performance im­provement helps you:
Identify your star performers using three simple questions
Conduct Wisdom Discovery workshops that discover what makes your stars great
Present the findings in a way that makes people want to listen and learn
Train "coaches" to guide learners to convert that knowledge into applied, practical learning
Reinforce the learnings with group discussions, journals, and other techniques
Turn isolated employees from anywhere on the organizational chart into influential leaders that build a culture of greatness, achieving extraordinary tangible and intangible results
The Star Factor
's practical, step-by-step process is packed with the newest research on motivation, key findings on positive deviants, examples of Affirmative Leadership in action, realistic development scenarios, and more. By showing you how to tap into the wisdom of your top performers, you'll inspire and reinforce great leadership from executives, managers, team leaders, and individual contributors. You'll turn your organization into a star factory!

Reviews
"Lucky managers have a star on their roster, a 'Michael Jordan,' who can make things happen on the court. Smart managers find ways to bring everyone up to that level. The qualities of stand-out employees are not mysterious—they are tools, attitudes, and inner drives that can be taught and fostered. The Star Factor will help you understand what makes a star and how to nurture everyone's inner magic."
—Daniel H. Pink, author of To Sell Is Human and Drive
"Affirmative Leadership, as presented in The Star Factor, is one of the best front-line leadership development programs that I have worked with. This program helps identify the best practices of your top performers, which are then developed into a learning curriculum for others in the organization. The participants are supported through coaching and mentorship from leaders within the organization. This approach ensures ownership and commitment from the participants in their journey to become better leaders."
—Prashant Bhat, Learning Director, Cigna
"I have been a huge fan of The Star Factor methodology from the day the concept was introduced to me! If you are looking to create a customer-centric culture, fully aligned with your organization's values, that will drive improved business results, read on!"
—Kathryn L Tecosky, Ed.S, LPC; Director, Organization Change, Cox Enterprises
"The Star Factor is a whole new way of thinking about organizational behavior change. It takes neuroscience, adds another important science, positive deviancy, adds technology, and creates a whole new approach to organizational performance. This is one of the more science-based, data-driven approaches to organizational transformation I have seen."
—Dr. David Rock, author, Your Brain at Work; Director, Neuroleadership Institute
"There is new science that will help the average employee become excellent and an excellent employee a star. This books reveals the process for creating a high impact individual and team that outperforms and outdelivers the competition."
—John Assaraf, New York Times bestselling author, The Answer and Having It All; CEO, PraxisNow

About the Authors
William Seidman
is a recognized expert on the subject of executive decision making and performance improvement, and co-founder, CEO, and president of Cerebyte, a performance improvement company focused on increasing organizational performance. He lives in Lake Oswego, Oregon.
Richard Grbava
c joined Cerebyte in 2002, bringing 27 years of experience in sales, product development, organizational development, and consulting. He lives in Portland, Oregon.