Intelligent Leadership
: What You Need to Know to Unlock Your Full Potential
John Mattone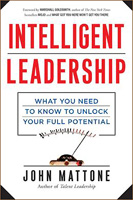 Format:
Paperback, 256pp.
ISBN:
9780814439371
Publisher:
AMACOM
Pub. Date:
April 23, 2013
Average Customer Review:

For Bulk Orders Call: 626-441-2024

Description and Reviews
From
The Publisher:
It's no secret that strong organizations have strong leaders. But in today's increasingly volatile, globalized economy, the need for executives who can collaborate, inspire, and motivate is more acute than ever. And it is a need you will be well-prepared to meet after reading
Intelligent Leadership
and applying its techniques.
John Mattone is the man current and future Fortune 500 leaders turn to for game-changing insights on how to overcome their self-imposed limiting thoughts and habits. He was recently named to the prestigious Thinkers50 "Guru Radar," and in his most essential book yet, he reveals his key insights for unlocking and unleash­ing greatness in yourself and your teams.
Intelligent Leadership
first analyzes "outer-core" competencies including decision-making, emo­tional leadership, communication, and talent leadership. Mattone arranges these in the Leadership Wheel of Success™, an innovative diagram that shows how your fundamentals of character and self-concept translate into your actions.
From there, the book delves into the "inner-core" elements that hold the keys to maximizing your strengths and overcoming your weaknesses. Using a nine-point Enneagram called the Map of Leadership Maturity™, Mattone explains how to cultivate your heart, mind, and soul for optimum performance--so that you can do the same for those you work with.
Going deeper, the Map identifies nine specific types of leader, challenging you to examine your own style, strengths, and weaknesses. The types include:
Perfectionists
: Reasonable, logical, and fair, these leaders benefit their clear understanding of issues and their innate ability to distinguish right from wrong, but less mature ones strug­gle with an inability to accept others for who they are.
Entertainers
: The best of these are valued for the social services they perform and their ability to adapt to others, but sometimes risk projecting an image substitute for their true selves in order to gain admiration and respect.
Thinkers
: With highly-developed intelligence and problem-solving skills, Thinkers can be extraordinarily valuable. Unless, that is, they spend all their time analyzing, and none of it implementing.
Disciples
: Loyal, committed, and dependable, these leader types can achieve greatness if they develop the ability to judge when permission is necessary to proceed and when it isn't.
examining all nine in depth and acknowledging the reality that everyone is a blend of styles rather than simply one or another, Leadership Intelligence establishes itself as the most thorough and nuanced guide ever to this critical discipline. After reading the book and practicing the supplemental exercises Mattone provides, you will have a customized roadmap that will prepare you to become a more effective, strategic, and operationally focused leader.

About the Author
John Mattone
is the president of JohnMattonePartners, Inc., a global leadership consulting firm. A sought-after keynote speaker and coach to many of America's leading corporations, he also teaches in the executive MBA program at Florida Atlantic University, and is the author of Talent Leadership.