What Keeps Leaders Up at Night
: Recognizing and Resolving Your Most Troubling Management Issues
Nicole Lipkin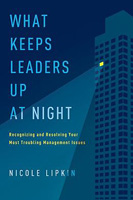 Format:
Hardcover, 288pp.
ISBN:
9780814432112
Publisher:
AMACOM
Pub. Date:
June 5, 2013
Average Customer Review:

For Bulk Orders Call: 626-441-2024

Description and Reviews
From
The Publisher:
No matter how many initiatives you spearhead or how hard you think about decisions, you will make the occasional management misstep. All leaders do. You can lie awake at night questioning yourself or you can read this book.
As a clinical and business psychologist who works with executives around the world, Nicole Lipkin knows the stresses leaders face. In
What Keeps Leaders Up at Night
, she presents smart solutions to the common mistakes leaders make with their people, answering questions including:
• Why do I sometimes feel threatened by my best people?
• How do I remain cool in hot situations?
• How can I ensure people hear what I say?
• How can I cope more effectively with change?
• Why have I lost so many of my best employees to the competition?
The book examines engagement, motivation, expectation, emotions, interpersonal and group dynamics—all the psychological principles that play pivotal roles in the workplace. Featuring illuminating examples and exercises,
What Keeps Leaders Up at Night
shines a bright light into the dark corners where all leaders struggle with their own shortcomings.

Reviews
Clinical and business psychologist Lipkin helps readers understand how to realign their thoughts so they can stay calm and do good work. According to Lipkin, good bosses become ineffective because they're too busy to win, too proud to see what's going on, and too afraid to lose. Most executives are hardwired to act like stereotypical TV bosses—ignoring advice and clinging to their status as leaders—and they have to reset their thinking. Lipkin makes excellent points about understanding the difference between what the voice in one's head is saying and what is really happening. If business leaders leap to disastrous conclusions after minor incidents, they need to retrain their brains not to panic. These cognitive distortions keep leaders in a state of frenzy. Lipkin shows readers how to deal with assumptions and expectations; help teams work with change; understand why good teams go bad; resist the tendency toward group conformity; keep competition from becoming warfare; and simply deal with the usual problems in running a business. Lipkin's emphasis on understanding the psychology behind these issues and her conversational, engaging tone will appeal to readers flummoxed by their all-too-human teams.
—Publishers Weekly

About the Author
Nicole Lipkin
, a sought-after speaker and consultant, holds a doctorate in Clinical Psychology as well as an MBA. She has shared her expertise on NPR, NBC, CBS, Fox Business News, and other high-profile media outlets.

Table of Contents
| | | |
| --- | --- | --- |
| | Introduction: What Was I Thinking? | xi |
| 1 | I'm a Good Boss. So Why Do I Sometimes Act Like a Bad One? | 1 |
| 2 | Why Don't People Heed My Sage Advice? | 29 |
| 3 | Why Do I Lose My Cool in Hot Situations? | 59 |
| 4 | Why Does a Good Fight Sometimes Turn Bad? | 93 |
| 5 | Why Can Ambition Sabotage Success? | 119 |
| 6 | Why Do People Resist Change? | 147 |
| 7 | Why Do Good Teams Go Bad? | 173 |
| 8 | What Causes a Star to Fade? | 203 |
| | The A-Ha Moment | 235 |
| | References | 239 |
| | Index | 259 |