Managing Brand You
: 7 Steps to Creating Your Most Successful Self
Jerry S. Wilson and Ira Blumentha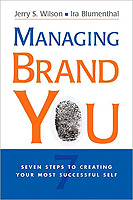 Format:
Paperback, 256pp.
ISBN:
9780814437759
Publisher:
AMACOM
Pub. Date:
July 16, 2008
Average Customer Review:

For Bulk Orders Call: 626-441-2024

Description and Reviews
From
The Publisher:
Whether we realize it or not, we are all brands. We all have qualities that shape and influence how the people in our lives see us—and how we see ourselves. Nationally respected brand experts Jerry Wilson and Ira Blumenthal have helped some of the most exceptional companies and individuals in the world perfect their images. Now, in Managing Brand You, they reveal their proven seven-step process for personal brand building.
Using illuminating examples from successful corporations like Coca-Cola and Starbucks as well as high-profile celebrities like Bono and Oprah, Managing Brand You gives readers a step-by-step guide for conducting a self analysis, creating a unique identity, defining their objectives, discovering their passions, creating a plan, putting that plan into action, and monitoring their progress. Wise and insightful, this book will help readers identify what it is that makes them unique and communicate it in a way that guarantees them success.

Reviews
What if individuals could harness the power of branding to improve their lives? Wilson and Blumenthal expound on the rewards of identifying and reinforcing a consistent individual brand in this pragmatic self-help book, which offers readers a step-by-step guide to personal and professional exploration and development. The authors highlight those corporate juggernauts (Starbucks, Coca-Cola, Burger King) and public figures (Oprah Winfrey, Tiger Woods, Walt Disney—and surprisingly—Mahatma Gandhi) that have used conscious branding to catapult them to success. Subsequent chapters offer straightforward assessment exercises to help readers identify their strengths and key attributes, develop a strategy for "repositioning" or reinforcing "brand essence," and align their behaviors with their brands. While equating commercial marketing techniques to personal development may initially strike readers as disingenuous or calculating, the authors emphasize that "brand positioning is meant to bring out the best in you, not to set in motion a promotional campaign based on false image." The true message of this widely appealing book is about being true to yourself and then intentionally and dependably projecting that authentic package to the world. (July)
—PUblishers Weekly, Copyright © Reed Business Information, a division of Reed Elsevier Inc. All rights reserved.


Reader's Index
Send us your favorite quotes or passages from this book
.
• "Simply put, to place yourself in the satisfying and successful life that you imagine, you need to find your inner drive and to discover the skills you have that can help you find your best space. Having a brand identity that is right for you is no accident. It begins by looking deep inside yourself to find out what motivates you and to discover the principles that guide your life. And it is equally important to recognize where you do not want to be, as it is to visualize where you want to be." Pg. 103

About the Authors
Jerry S. Wilson
(Atlanta, GA) is a noted speaker and senior vice president at The Coca-Cola Company.
Ira Blumenthal
(Atlanta, GA) is a highly respected brand consultant, author, speaker, and university educator who has counseled high-profile brand clients such as Coca-Cola, Disney, Marriott, Nestlé, and American Airlines.

Table of Contents
Acknowledgments
ix
Introduction: What Branding Can Do for You
1
Who Am I and How Did I Get Here?
Step One: Do the Brand YOU Audit
33
What Do I Stand for Today?
Step Two: Assess Your Brand YOU Image
57
What Do I Want to Stand For?
Step Three: Determine Your Brand YOU Identity and Essence
75
I Can Get There from Here!
Step Four: Position Your New Brand YOU
109
If It's to Be, It's Up to Me!
Step Five: Set Your Brand YOU Goals
153
I Can Build My Own Personal Roadmap on My Own Terms
Step Six: Establish Your Brand YOU Strategies
177
I Am Ready to Commit to My Action Plan
Step Seven: Implement, Monitor, and Adjust Your New Brand YOU
197
Commencement
217
Glossary of Branding Terms
219
Index
225
About The Authors
233

Find Items On Similar Subjects

Career Warfare
: 10 Rules for Building a Successful Personal Brand on the Business Battlefield