Creativity, Inc.
: Overcoming the Unseen Forces That Stand in the Way of True Inspiration
Ed Catmull and Amy Wallace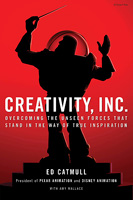 Format:
Hardcover, 368pp.
ISBN:
9780812993011
Publisher:
Random House
Pub. Date:
April 8, 2014
Average Customer Review:


For Bulk Orders Call: 626-441-2024

Description and Reviews
From
The Publisher:
From Ed Catmull, co-founder (with Steve Jobs and John Lasseter) of Pixar Animation Studios, comes an incisive book about creativity in business—sure to appeal to readers of Daniel Pink, Tom Peters, and Chip and Dan Heath.
Creativity, Inc.
is a book for managers who want to lead their employees to new heights, a manual for anyone who strives for originality, and the first-ever, all-access trip into the nerve center of Pixar Animation—into the meetings, postmortems, and "Braintrust" sessions where some of the most successful films in history are made. It is, at heart, a book about how to build a creative culture—but it is also, as Pixar co-founder and president Ed Catmull writes, "an expression of the ideas that I believe make the best in us possible."
For nearly twenty years, Pixar has dominated the world of animation, producing such beloved films as the Toy Story trilogy, Monsters, Inc., Finding Nemo, The Incredibles, Up, and WALL-E, which have gone on to set box-office records and garner thirty Academy Awards. The joyousness of the storytelling, the inventive plots, the emotional authenticity: In some ways, Pixar movies are an object lesson in what creativity really is. Here, in this book, Catmull reveals the ideals and techniques that have made Pixar so widely admired—and so profitable.
As a young man, Ed Catmull had a dream: to make the first computer-animated movie. He nurtured that dream as a Ph.D. student at the University of Utah, where many computer science pioneers got their start, and then forged a partnership with George Lucas that led, indirectly, to his founding Pixar with Steve Jobs and John Lasseter in 1986. Nine years later, Toy Story was released, changing animation forever. The essential ingredient in that movie's success—and in the thirteen movies that followed—was the unique environment that Catmull and his colleagues built at Pixar, based on philosophies that protect the creative process and defy convention, such as:
Give a good idea to a mediocre team, and they will screw it up. But give a mediocre idea to a great team, and they will either fix it or come up with something better.
If you don't strive to uncover what is unseen and understand its nature, you will be ill prepared to lead.
It's not the manager's job to prevent risks. It's the manager's job to make it safe for others to take them.
The cost of preventing errors is often far greater than the cost of fixing them.
A company's communication structure should not mirror its organizational structure. Everybody should be able to talk to anybody.
Do not assume that general agreement will lead to change—it takes substantial energy to move a group, even when all are on board.

Reviews
"Many have attempted to formulate and categorize inspiration and creativity. What Ed Catmull shares instead is his astute experience that creativity isn't strictly a well of ideas, but an alchemy of people. In Creativity, Inc. Ed reveals, with commonsense specificity and honesty, examples of how not to get in your own way and how to realize a creative coalescence of art, business, and innovation."
—George Lucas
"Business gurus love to tell stories about Pixar, but this is our first chance to hear the real story from someone who lived it and led it. Everyone interested in managing innovation—or just good managing—needs to read this book."
—Chip Heath, co-author of Switch and Decisive

About the Authors
Ed Catmull
is co-founder of Pixar Animation Studios and president of Pixar Animation and Disney Animation. He has been honored with five Academy Awards, including the Gordon E. Sawyer Award for lifetime achievement in the field of computer graphics. He received his Ph.D. in computer science from the University of Utah. He lives in San Francisco with his wife and children.
Amy Wallace
is a journalist whose work has appeared in GQ, The New Yorker, Wired, Los Angeles Times, and The New York Times Magazine. She currently serves as editor-at-large at Los Angeles Times magazine. Previously, she worked as a reporter and editor at the Los Angeles Times and wrote a monthly column for The New York Times Sunday Business section. She lives in Los Angeles.

Table of Contents
| | | |
| --- | --- | --- |
| | | |
| | Introduction: Lost and Found | |
| | | |
| | Part I: Getting Started | |
| 1 | Animated | 3 |
| 2 | Pixar is Born | 21 |
| 3 | A Defining Goal | 45 |
| 4 | Establishing Pixar's Identity | 66 |
| | Part II: Protecting the New | |
| 5 | Honesty and Candor | 85 |
| 6 | Fear and Failure | 106 |
| 7 | The Hungry Beast and the Ugly Baby | 129 |
| 8 | Change and Randomness | 145 |
| 9 | The Hidden | 167 |
| | Part III: Building and Sustaining | |
| 10 | Broadening Our View | 189 |
| 11 | The Unmade Future | 223 |
| | Part IV: Testing What We Know | |
| 12 | A New Challenge | 243 |
| 13 | Notes Day | 275 |
| | | |
| | Afterword: The Steve We Knew | 297 |
| | Starting Points: Thoughts for Managing a Creative Culture | 315 |
| | Acknowledgments | 321 |
| | Index | 325 |

Find Items On Similar Subjects

Everything Connects
: How to Transform and Lead in the Age of Creativity, Innovation, and Sustainability