Centered Leadership
: Leading with Purpose, Clarity, and Impact
Joanna Barsh and Johanne Lavoie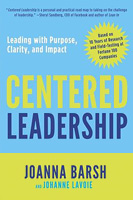 Format:
Hardcover, 336pp.
ISBN:
9780804138871
Publisher:
Crown Business
Pub. Date:
March 18, 2014
Average Customer Review:

For Bulk Orders Call: 626-441-2024

Description and Reviews
From
The Publisher:
What enables some talented people to rise to the top and live their full ambitions at work and in life, while others stop short?
In 2007, Joanna Barsh led a team at McKinsey & Company to answer that very question. In the process, they uncovered what distinguishes leaders who are successful from those who achieve true greatness, developing an approach called Centered Leadership. They drew on research from across the academic fields of leadership, organization behavior, neuroscience, evolutionary psychology and positive psychology. In addition, Barsh interviewed over 160 leaders from many fields – including business, government and the arts – and from many countries. With quantitative research, the team learned that these leaders have mastered practices to find their balance in the midst of chaos and lead from their most resourceful selves, unleashing the potential of others. In 2009, Johanne Lavoie joined to lead development of programs that help executives build these capabilities. Their research and development work continues as more and more leaders experience Centered Leadership.
In the business bestseller, How Remarkable Women Lead, Barsh described Centered Leadership's five capabilities and the research that underpins it. Here, with colleague Johanne Lavoie, Barsh provides a practical, actionable field guide for implementation.
In
Centered Leadership
, Barsh and Lavoie will guide you through the Centered Leadership program. You'll find the interactive tools, exercises, and practices that have helped the men and women participants in Centered Leadership programs gain the skills, courage and confidence to lead. And, along the way, you'll read inspiring stories of remarkable men and women leaders who demonstrate the power of these skills in action.
Those early in their careers will learn how to use these skills to explore their passions and accelerate their professional development. Those forming families will be able to use them to reconcile manage work and life to get the most out of both. And those who have already achieved success will be able use these practices to reach their next leadership horizon.
No matter what stage you are currently at in your career, or what level of leadership you aspire to, this book will equip you with the tools to unlock your own Centered Leader and achieve more positive impact at work and outside it.

Reviews
"Centered Leadership is a personal and practical roadmap to taking on the challenge of leadership."
—Sheryl Sandberg, COO Facebook and author of Lean In
"Many have tried to define the common characteristics of leadership, but few have applied the rigorous, research-based approach that Joanna Barsh takes in Centered Leadership. The result is a book that is both authoritative and actionable."
—Dan Doctoroff, CEO & President of Bloomberg L.P.
"Centered Leadership is the essential leadership guide for our times, as it puts personal development at the center of the corporate leadership endeavor. Here's a program that transforms your work and life balance from a challenge into a strategy."
—Steven Pleshette Murphy, CEO Christie's International PLC
"Barsh's voice is original, authoritative, and above all extraordinarily practical regardless of where we are in our leadership journey. I read this book smiling—it's a rare personal guide for every generation."
—Andrea Jung, former Chairman and CEO, Avon Products
"Many of us in leadership positions tend to think that we instinctively know what it takes to inspire and motivate others. But CENTERED LEADERSHIP opened my eyes to the fact that great leadership is more a science than we realize. Barsh and Lavoie draw on deep research and fieldwork to genuinely help us build our capabilities. "
—Gary E. Knell, President and CEO, National Geographic Society
The Centered Leadership Project may have begun as an investigation into what makes remarkable women leaders tick, but after reading Barsh's excellent second book, I have become convinced that she and Lavoie have their fingers on what anyone - woman or man - can do to become the kind of inspirational leader everyone will want to follow.
—D. Ronald Daniel, Former Managing Partner, McKinsey & Company
"In Centered Leadership Joanna Barsh has given us a highly effective guide to building the more comprehensive, often deeply human, leadership skills that this complex, fast paced era requires."
—Luis Ubinas, former CEO Ford Foundation

About the Authors
Joanna Barsh
is the author of the business bestseller How Remarkable Women Lead and director emeritus at McKinsey & Company. At McKinsey, she led the creation of Centered Leadership in 2008. Joanna now helps governments and businesses grow the global community of Centered Leaders. She has spoken to groups in over 20 countries, including Australia, Brazil, China, France, Indonesia, Malaysia, Saudi Arabia, Sweden, and the U.K., and Fortune 100 companies such as Citi, Danone, GE, Google, Time Warner, and Walmart. She has been featured by the Wall Street Journal, Forbes, FT, Businessweek, and more. Joanna holds an MBA from the Harvard Business School where she was a Baker Scholar.
Johanne Lavoie
is a senior expert in McKinsey's organization practice; she serves as the dean of the Centered Leadership Program, the global leadership course for senior executives. Johanne mixes twenty years of business consulting with expertise in adult development and organization culture at Fortune 100 companies. In addition, Johanne serves on the advisory board and faculty of the Banff Leadership Center. She has an MBA from the Harvard Business School.