Essentialism
: The Disciplined Pursuit of Less
Greg McKeown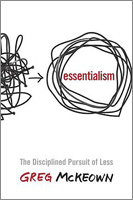 Format:
Hardcover, 272pp.
ISBN:
9780804137386
Publisher:
Crown Business
Pub. Date:
April 15, 2014
Average Customer Review:

For Bulk Orders Call: 626-441-2024

Description and Reviews
From
The Publisher:
Have you ever found yourself stretched too thin?
Do you simultaneously feel overworked and underutilized?
Are you often busy but not productive?
Do you feel like your time is constantly being hijacked by other people's agendas?
If you answered yes to any of these, the way out is the Way of the Essentialist.
The Way of the Essentialist isn't about getting more done in less time. It's about getting only the right things done. It is not a time management strategy, or a productivity technique. It is a systematic discipline for discerning what is absolutely essential, then eliminating everything that is not, so we can make the highest possible contribution towards the things that really matter.
By forcing us to apply a more selective criteria for what is Essential, the disciplined pursuit of less empowers us to reclaim control of our own choices about where to spend our precious time and energy – instead of giving others the implicit permission to choose for us.
Essentialism is not one more thing – it's a whole new way of doing everything. It's about doing less, but better, in every area of our lives.
Essentialism is a movement whose time has come.

Reviews
"Entrepreneurs succeed when they say "yes" to the right project, at the right time, in the right way. To accomplish this, they have to be good at saying "no" to all their other ideas. Essentialism offers concise and eloquent advice on how to determine what you care about most, and how to apply your energies in ways that ultimately bring you the greatest rewards."
—Reid Hoffman, co-founder/chairman of LinkedIn and co-author of the #1 NYT bestseller "The Start-up of You"
"Essentialism holds the keys to solving one of the great puzzles of life: how can we do less but accomplish more? A timely, essential read for anyone who feels overcommitted, overloaded, or overworked—in other words, everyone. It has already changed the way that I think about my own priorities, and if more leaders embraced this philosophy, our jobs and our lives would be less stressful and more productive. So drop what you're doing and read it.."
—Adam Grant, Wharton professor and bestselling author of Give and Take
"As a self-proclaimed "maximalist" who always wants to do it all, this book challenged me and improved my life. If you want to work better, not just less, you should read it too."
—Chris Guillebeau, NYT bestselling author of The $100 Startup
"Great design takes us beyond the complex, the unnecessary and confusing, to the simple, clear and meaningful. This is as true for the design of a life as it is for the design of a product. With Essentialism, Greg McKeown gives us the invaluable guidebook for just such a project."
—Tim Brown, CEO of IDEO
"In Essentialism, Greg McKeown makes a compelling case for achieving more by doing less. He reminds us that clarity of focus and the ability to say 'no' are both critical and undervalued in business today."
—Jeff Weiner, CEO of LinkedIn
"Essentialism is a powerful antidote to the current craziness that plagues our organizations and our lives. Read Greg McKeown's words slowly, stop and think about how to apply them to your life – you will do less, do it better, and begin to feel the insanity start to slip away."
—Robert I. Sutton, Professor at Stanford University and author of Good Boss, Bad Boss and Scaling Up Excellence.
In a world of increasing chaos and complexity, the ideas and tools of Essentialism turn chaos into commitment and complexity into accomplishment. This timely, well written book is a must read and do for any employee, manager, leader, or parent whoever feels overwhelmed. It is truly the right book at the right time.
—Dave Ulrich, Professor, University of Michigan School of Business and Partner, the RBL Group
"Essentialism is a rare gem that will change lives. Greg offers deep insights, rich context and actionable steps to living life at its fullest. I've started on the path to an Essentialist way of life, and the impact on my productivity and well-being is profound."
—Bill Rielly, Senior Vice President, Intel Security
"While everyone else is still leafing through Lean In or Outliers, get a competitive jump on the new year with....Essentialism... learn how to identify the right things, focus on getting them done, and forget the rest. In other words, 'do less, but better.'"
—Forbes

About the Author
Greg McKeown
writes, teaches, and speaks around the world on the importance of living and leading as an Essentialist. He has spoken at companies including Apple, Google, Facebook, LinkedIn, Salesforce.com, Symantec, and Twitter and is among the most popular bloggers for the Harvard Business Review and LinkedIn Influencer's group. He co-created the course, Designing Life, Essentially at Stanford University, was a collaborator of the Wall Street Journal bestseller Multipliers and serves as a Young Global Leader for the World Economic Forum. He holds an MBA from Stanford University.