Notes on Directing
: 130 Lessons in Leadership from the Director's Chair
Frank Hauser and Russell Reich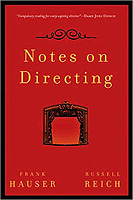 Format:
Paperback, 160pp.
ISBN:
9780802717085
Publisher:
Walker & Company
Pub. Date:
September 2, 2008
Average Customer Review:

For Bulk Orders Call: 626-441-2024

Description and Reviews
From
The Publisher:
At last in paperback, the brilliant primer on directing for film and theater that Dame Judi Dench calls "a gem—witty and full of insight."
Five years ago, Frank Hauser, a retired director, and Russell Reich, his former student, co-wrote
Notes on Directing
, which Reich self-published. It was immediately acclaimed as a timeless classic—and is now finally available in a paperback edition.
There is true genius on these pages. Just as Strunk and White have done for composition and grammar, Hauser and Reich offer unparalleled insights into the crafts of directing and acting. They include, as well, life lessons—about how to deal with people, anticipate problems, and handle challenging situations—that make Notes on Directing as valuable offstage as on.
The 130 "notes" address a wide range of topics, from understanding the script to casting, rules for rehearsal, how to talk to actors, how to get a laugh, and the key elements of staging. They reveal what got the young Ian McKellen, Judi Dench, and Richard Burton started on their careers, and offer rare quotes from artists as diverse as Anton Chekhov, Elia Kazan, and George Bernard Shaw. Plainly expressed, with explanatory commentary and five valuable appendices, this deceptively slim book has the impact of a privileged apprenticeship with a master director. For the student aspiring to a directing or acting career, the professional looking for new ideas, or the theater lover wanting insight into the creative process, reading Notes on Directing will be an invaluable experience.
In 1987, British Director Frank Hauser quietly handed twelve pages of typewritten notes to his apprentice, American Russell Reich. The notes—gathered over a long career and polished to a sharp edge—documented the teachings and directions that Hauser shared privately with a host of theatrical and cinematic figures, including Sir Alec Guinness, Richard Burton, Peter O'Toole, Sir Ian McKellen, Dame Judi Dench, Kevin Spacey, and many others who called Hauser their director, mentor, teacher, or boss.
Now, the former student has expanded and enhanced his mentor's private notes into a book-length format suitable for anyone searching for the timeless gems of the director's craft. Drawing on years of training, decades of experience, and the distilled wisdom of leading practitioners, "Notes on Directing" is filled with enduring good advice expressed in assertive, no-nonsense language. More than a "how-to," this is a tool for directors looking to better translate the page to the stage -- or to the screen. With one hundred and thirty directives supported with explanatory commentary, helpful examples, and rare quotes, this deceptively slim volume has the impact of a privileged apprenticeship to a great master.
Whether you are a student or a professional, a playgoer, moviegoer, or enthusiast, Notes on Directing provides a thrilling glimpse into the hidden process of creating a live, shared experience.

Reviews
"...filled with smart, useful, thoughtful advice... I learned a lot from this remarkably straightforward book... it is invaluable."
—Director Mark Lamos, Former Artistic Director, Hartford Stage
"Frank Hauser's...wise and pithy observations on acting and rehearsing don't age, reminding me how much I learned from him."
—Sir Ian McKellen
"This book is so sensible, complete, and 'right,' that somebody might think it was not serious. They would be wrong."
—Pulitzer Prize Winner Edward Albee
"…if you need a practical manual of the craft, this book should be by your side."
—Sir Richard Eyre, Former Artistic Director, Britain's Royal National Theatre
Clear, straightforward, dryly funny. Deserves to earn at least a million dollars, if not a Nobel Peace Prize.
—The Wall Street Journal, February 13, 2004
Like sitting down for sherry with a wicked and droll Oxford don...full of surprising interests and quirky delights.
—American Theatre magazine, October, 2003

About the Authors
Frank Hauser
, now deceased, formed the Meadow Players at Oxford University in 1956 and served as Director of Productions at the Oxford Playhouse for seventeen years, during which many of his productions were seen in London and New York. In 1968 he received the award of Commander of the British Empire (CBE), one of the most prestigious honors granted by the queen.
Russell Reich
is a creative director and lives in New York. He served as visiting artist in residence at Harvard University and artistic associate at the Circle Repertory Company in New York, and was a member of the Circle Rep Directors Lab.

Table of Contents
Preface
Notes on Notes on Directing
More Notes on Notes on Directing
Understanding the Script
The Director's Role
Casting
First Read-Through
Rehearsal Rules
Building Blocks
Talking to Actors
Getting a Laugh
Elements of Staging
Last Tips
Epilogue
Appendix I: The What Game
Appendix II: Friends & Enemies
Appendix III: Simplicity, Variety, and Clarity
Appendix IV: Meaning It
Appendix V: Recommended Reading
Index

Find Items On Similar Subjects

The Illusion of Leadership
: Directing Creativity in Business and the Arts

The Creative Habit
: Learn It and Use It for Life