Your Best Year Ever
: A 5-Step Plan for Achieving Your Most Important Goals
Michael Hyatt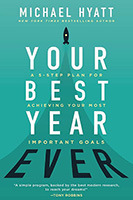 Format:
Hardcover, 272pp.
ISBN:
9780801075254
Publisher:
Baker Books
Pub. Date:
January 2, 2018
Average Customer Review:

For Bulk Orders Call: 626-441-2024

Description and Reviews
From
The Publisher:
This is the year you finally close the gap between reality and your dreams.
We all want to live a life that matters. We all want to reach our full potential. But too often we find ourselves overwhelmed by the day-to-day. Our big goals get pushed to the back burner--and then, more often than not, they get forgotten.
It doesn't have to be that way!
In
Your Best Year Ever
, Michael Hyatt shares a powerful, proven, research-driven system for setting and achieving your goals. You'll learn how to design your best year ever by discovering
• what's holding you back right now
• how to overcome your past setbacks
• the seven attributes of effective goals
• how to quit-proof your goals
• the role of habits in personal achievement
• what to do when you feel stuck
• and much more
If you're tired of not seeing progress in your personal, intellectual, business, relational, or financial goals, it's time for you to have your best year ever!

Reviews
"Generous goals work (if you write them down) and powerful books work (if you read them). Michael Hyatt has created a fun, fast way to find your dreams and then turn them into reality."
—Seth Godin, author, Linchpin
"Your Best Year Ever is full of compelling, real-life stories of average people who have achieved extraordinary results. Please take my advice and only buy this book if you want to be able to look back in twelve months and say, 'Now that was my best year ever!'"
—John C. Maxwell, author, speaker, and leadership expert
"Let's be honest . . . resolutions just don't work. That's why a lot of gyms are empty and even more budgets are blown by Valentine's Day every year. If you really want things to change over the next twelve months, look at what Your Best Year Ever has to say--then do what it says."
—Dave Ramsey, bestselling author; nationally syndicated radio show host
"Michael has been a trusted friend and guide of mine for a long time. This is a playbook for success in the relationships, endeavors, and beautiful ambitions you have for yourself and the ones you love the most."
—Bob Goff, New York Times bestselling author, Love Does

About the Author
Michael Hyatt
is the founder and CEO of Michael Hyatt & Company, a leadership development firm specializing in transformative live events, workshops, and digital and physical planning tools. Formerly chairman and CEO of Thomas Nelson Publishers, Michael is also a New York Times, Wall Street Journal, and USA Today bestselling author of several books, including Living Forward and Platform. His work has been featured by the Wall Street Journal, Forbes, Inc., Fast Company, Businessweek, Entrepreneur, and other publications. Michael has been married to his wife, Gail, for thirty-nine years. They have five daughters, three sons-in-law, and eight grandchildren. They live just outside Nashville, Tennessee. Learn more at MichaelHyatt.com.