Remarkable!
Maximizing Results through Value Creation
David Salyers and Randy Ross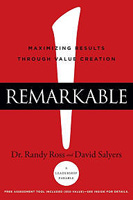 Format:
Hardcover, 208pp.
ISBN:
9780801018831
Publisher:
Baker Books
Publication Date:
February 16, 2016
Average Customer Review:

For Bulk Orders Call: 626-441-2024

Description and Reviews
From
The Publisher:
There is only one differentiating factor between average and Remarkable: value creation
Remarkable!
is an entertaining and enlightening business parable that has the power to turn around any team. Through the humorous and eye-opening story of Dusty Harts, you'll discover how to build a workplace culture that inspires your team members to bring the best of who they are to the table every day, creating an environment that maximizes value creation in every endeavor.
Addressing the three dimensions of workplace culture—values, thinking, and behaviors—
Remarkable!
shows managers and CEOs alike the keys to building a strong team and avoiding the common workplace problems that sap energy and break down teamwork. By seeking to bring creativity, positivity, sustainability, and responsibility to every endeavor, you can craft a corporate culture in which people thrive and do their best work.

Reviews
"For over three decades I've seen firsthand how the emotional climate of an organization and its culture are both created and sustained by leaders. Remarkable! has been masterfully crafted to help you, the leader, take control of your culture and make it come alive!"
—Dr. Henry Cloud, clinical psychologist, acclaimed leadership expert, and New York Times bestselling author
"Infused with humor and a fascinating story line, this book sets forth principles of a value system that will ensure enduring success for any organization. It is a dramatic story that is both enjoyable and powerful. It is Remarkable!"
—Earl T. Leonard Jr., retired senior vice president, the Coca-Cola Company; distinguished executive-in-residence, Terry College of Business, The University of Georgia
"There is significant empirical evidence that a healthy corporate culture facilitates sustained organizational success. Remarkable! provides compelling insight into how personal character development and a healthy corporate culture are inextricably linked."
—Dave Ridley, senior vice president, Southwest Airlines

About the Authors
Dr. Randy Ross
is founder and CEO (Chief Enthusiasm Officer) of Remarkable! A master of cultural transformation, Dr. Ross has a unique understanding of employee engagement and offers practical solutions for increasing both team morale and performance. He has traveled throughout the United States and internationally as a speaker, consultant, and coach, building teams and developing leaders. He lives in Georgia.
David Salyers
is the vice president of national, regional, and local marketing for Chick-fil-A. As a passionate student of life and business, he has spent over thirty years seeing the principles in
Remarkable!
play out. Serving as a board member for numerous nonprofit organizations, along with for-profit startups, has convinced him that the principles of value creation are universally applicable. He lives in Georgia.