The Success Intersection
: What Happens When Your Talent Meets Your Passion
Pat Williams with Jim Denney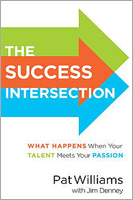 Format:
Paperback, 208pp.
ISBN:
9789386450074
Publisher:
Embassy Books
Pub. Date:
December 4, 2017
Average Customer Review:

For Bulk Orders Call: 626-441-2024

Description and Reviews
From
The Publisher:
From the age of seven, Pat Williams's greatest passion was baseball. However, after two years in the minors, he had to admit it was not his greatest talent, and his career as a professional baseball player was at a dead end. But a phenomenally successful career in sports was just beginning. When he combined his passion for sports with his greatest talents—eadership, salesmanship, and promotion—he found his success intersection.
"When your greatest talent intersects with your greatest passion," says Williams, "you have discovered your sweet spot in life." It's the spot that will result in the greatest personal success and satisfaction and the greatest impact on the world. Williams shows readers how to:
• identify their greatest talent
• pursue their greatest passion
• multiply their efforts through teamwork
Readers will discover how to maximize their natural gifting, focus their enthusiasm, and leverage their talent and passion into a lifetime of success.

Reviews
"From tools for identifying and managing talent to the importance of finding the right collaborators, The Success Intersection offers practical advice from some of the most influential people in sports, entertainment, and business. This book is for anyone who wants to compete and succeed at the highest level."
—Adam Silver, commissioner of the National Basketball Association
"Once I started on The Success Intersection by Pat Williams I couldn't stop reading. It's loaded with great information and the stories are terrific. I know you'll be as impacted as I was."
—Jim McElwain, head football coach, University of Florida
"The Success Intersection really drills down on two areas of maximizing achievement that all coaches strive to develop in their teams--talent and passion. This book provides a clear road map for teams as well as individuals to find their sweet spot in life."
—Dirk Koetter, head coach, Tampa Bay Buccaneers
"Pat Williams's waste-no-time philosophy has informed my work ethic for decades, so I know from experience that he's an authority on this subject. The Success Intersection distills all he's learned and put into practice. Pat lays it out in such a way that you can easily intersect your talent with your passion to discover your sweet spot in life. Now that's success!"
—Jerry B. Jenkins, novelist and biographer; founder, The Jerry Jenkins Writers Guild

About the Author
Pat Williams
is senior vice president of the NBA's Orlando Magic. He has more than fifty years of professional sports experience, has written dozens of books, including the popular Coach Wooden and It's Not Who You Know, It's Who You Are, and is one of America's most sought-after motivational speakers. He lives in Florida. Find out more at www.patwilliams.com.