Leadership and the Sexes
: Using Gender Science to Create Success in Business
Michael Gurian with Barbara Annis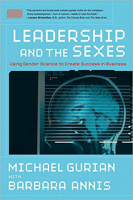 Format:
Hardcover, 272pp.
ISBN:
9780787997038
Publisher:
Jossey-Bass
Pub. Date:
August 25, 2008
Average Customer Review:

For Bulk Orders Call: 626-441-2024

Description and Reviews
From
The Publisher:
Each of us enters the workplace not only as a human being, but as a woman or a man.
Leadership and the Sexes
links the actual science of male/female brain differences to every aspect of business. Written by the New York Times bestselling author and gender expert Michael Gurian and acclaimed workplace gender consultant Barbara Annis, this groundbreaking book weaves brain science and gender studies with real-life examples from business leaders to provide a new vision of gender diversity.
Leadership and the Sexes
presents brain science tools with which readers can look into the brains of men and women to understand themselves and one another. The book also provides five GenderTools, which can be used immediately in executive, management, design, and marketing teams. The gender science presented in this book has been used successfully by such diverse corporations as IBM, Nissan, Proctor & Gamble, Deloitte & Touche, PriceWaterhouseCoopers, Brooks Sports, and many others. This gender science helps leaders increase their organization's competitive edge, profits, and bottom line by:
Increasing gender intelligence betweenmen and women
Discovering new ways to supervise, negotiate, and manage
Revising male/female relationships to meet the demands of the global economy
Understanding how to utilize gender science to sell and market products and services
The corporation that utilizes the authentic differences between men and women is the organization that discovers significant competitive advantage. The company or firm that helps women and men understand each other discovers maximum success.
Weaves Michael Gurian's trademark use of brain science in gender studies together with real life examples of what is currently happening in business leadership. It provides new vision and useful practical applications, helping women and men in the workplace become more effective and fulfilled, and ultimately helping businesses and business leaders realize increased profits. Through examples and case studies from companies like Kodak, Nike, Nintendo, Home Depot, Proctor & Gamble, Avon, and Disney, the book shows readers how ignoring gender diversity actually impedes the true potential of any business.

Reviews
"Leadership and the Sexes is an exciting new book by gender team Michael Gurian and Barbara Annis. It offers critical insight into the minefield of gender relationships in the workplace, and is a tool I have been missing. Corporate America needs the knowledge this new book gives us. I can't wait to start implementing the authors' ideas."
—Pernille Lopez, president, IKEA North America
"Leadership and the Sexes is researchbased and very readerfriendly, a Gender Development Kit that can be used by corporations to improve gender dynamics. Michael Gurian and Barbara Annis provide a scientific approach that breaks down traditional barriers and enables management to implement gender-based leadership rationally. This is an exciting book!"
—Dave Roth, former vice president of engineering, Packet Engines andVivato Systems
"Leadership and the Sexes is a great book! Michael Gurian and Barbara Annis have captured the insights and science that explain so much about our gender differences. Their book is a priceless contribution to the business world, as we learn how best to capitalize on the strengths of both sexes. It offers compelling scientific reasons for bringing us all to the table in equal, unique, and shared roles. I thank the authors for making sense out of a topic that others often cloud with political correctness . . . this book is right on target."
—Flip Flippen, president, the Flippen Group; bestselling author, The Flip Side
"Leadership and the Sexes is an important work and Michael Gurian and Barbara Annis are perfect to write it. Filled with practical, accessible information, this is a book that all of us need to read, whether we deal with men and women at work or (with those who lead) in our communities or families."
—Daniel Amen, M.D., neuropsychiatrist, the Amen Clinics; bestselling author, Sex on the Brain

About the Authors
Michael Gurian
is a thought-leader, corporate consultant, family therapist, and the New York Times bestselling author of twenty-five books, including Leading Partners, The Wonder of Girls, Boys and Girls Learn Differently!, The Wonder of Boys, and The Minds of Boys.?The co-founder of the Gurian Institute, he has spearheaded a national effort to provide communities and corporations with training in brain-based gender issues.?
Barbara Annis
is a thought-leader, corporate consultant on gender intelligence and inclusive leadership, CEO of Barbara Annis & Associates, and author of Same Words, Different Language. She has more than twenty years' experience as a specialist in gender issues in the workplace. Annis and her associates have delivered large-scale corporate projects on leadership, gender intelligence, and diversity. She also serves on the Harvard KSG Women's Leadership Board.

Table of Contents
| | | |
| --- | --- | --- |
| | | |
| | Introduction: How Gender Intelligence Leads to Balanced, Authentic Leadership | |
| | | |
| | I: THE THEORY | |
| | Gender Intelligence - The Natural Differences Between Men and Women | |
| 1 | Understanding the New Science of Gender Intelligence | |
| 2 | Understanding How the Male and Female Brain Work Differently | |
| 3 | Understanding How Men and Women Lead Differently | |
| | | |
| | II: FOUR GENDERTOOLS: PUTTING GENDER INTELLIGENCE TO WORK IMMEDIATELY | |
| 4 | GenderTool 1: Improving Your Negotiation Skills with Both Genders | |
| 5 | GenderTool 2: Running a Gender-Balanced Meeting | |
| 6 | GenderTool 3: Improving Your Communication Skills with Women and Men | |
| 7 | GenderTool 4: Improving Your Conflict Resolution Skills with Men and Women | |
| | | |
| | III: THE APPLICATIONS: ENSURING BALANCED LEADERSHIP IN MANAGEMENT | |
| 8 | Helping Women: Retaining, Motivating, and Working with Female Talent | |
| 9 | Helping Men: Recognizing Men's Leadership Strengths and Solving Issues Men Face | |
| 10 | GenderTool 5: Practicing Gender-Intelligent Mentoring and Coaching in Your Corporation | |
| | Epilogue: The Future of Gender | |
| | | |
| | Notes and Resources | |
| | Appendix: Gender/Brain Spectrum Surveys for Men and Women | |
| | About the Authors | |
| | Index | |

Find Items On Similar Subjects

Coaching with the Brain in Mind
: Foundations for Practice