The Taboos of Leadership
: The 10 Secrets No One Will Tell You About Leaders and What They Really Think
Anthony F Smith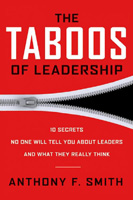 Format:
Hardcover, 192pp.
ISBN:
9780787995829
Publisher:
Jossey-Bass
Pub. Date:
April 20, 2007
Average Customer Review:

For Bulk Orders Call: 626-441-2024

Description and Reviews
From
The Publisher:
Most experts on leadership would have us believe that successful leaders are superhuman beings who are humble servants, have hearts of gold, and are motivated by the needs of their employees and shareholders.
That's because no one's been telling the truth about leadership . . .
Most leaders who make it to the top possess characteristics that are all too human: they have politically incorrect attitudes, are conflicted, and play politics to get their way. Written by leading management consultant Anthony F. Smith,
The Taboos of Leadership
reveals the rarely discussed realities of leadership—the secrets that leaders just cannot admit to publicly for fear of losing power, self-respect, or even their jobs. This revelatory book will help both leaders and followers achieve real understanding and co-create a two-way street culture of openness, trust, and improved performance in their organizations.
The Taboos of Leadership
discloses ten guarded secrets that leaders can't discuss, even with their closest constituents, including: charisma shouldn't make a difference . . . but it does; women make better leaders . . . when that's what they really want to do; blatant self-interest is dangerous . . . in followers, not leaders; thou shalt not play favorites with friends and family . . . except when it makes a lot of sense; and more.
Using real, in-the-trenches stories from Fortune 500 companies, Smith shows that once leaders and followers acknowledge the existence of a taboo in the workplace, they can then consider its positives and negatives. Leaders can determine if an existing taboo is hurting the organization or if it serves a useful purpose. If the taboo serves a useful purpose, they can consider ways to preserve it. If not, it should be pruned back and weeded out, allowing an organization and its leaders and followers to grow in a new way.

Reviews
"Leadership is a much-discussed but little-understood concept. Tony Smith calls on a lifetime of research and experience in the field to take the discussion into a refreshing new direction. By focusing on the importance of two-way communication and understanding, Tony delivers a deeper, richer picture of leadership and a road map for improving the performance of any organization."
—Paul Tagliabue, commissioner, National Football League (retired)
"By examining the role of leadership as a psychoanalyst would a troubled patient, Dr. Anthony Smith not only uncovers the root causes of rampant disorders in the postmodern corporate world, he also prescribes a series of groundbreaking changes that are at once brilliant and startling. Nothing is sacred in this book. Myths are exploded, taboos are broken, and the result is a revelation of common sense long barred from the boardroom."
—Mark Shapiro, president and CEO, Six Flags, Inc.
"Tony Smith is a keen observer who gets to the heart of leadership challenges and approaches. I especially appreciate that someone with his insight also has the courage to reveal the truth of leadership in this refreshing book."
—George Bodenhiemer, president, ESPN and ABC Sports; co-chairman, Disney Media Networks
"This may be the most honest book on leadership to date."
—Larry Probst III, CEO, Electronic Arts

About the Author
Anthony F. Smith
is co-founder and a managing director of Leadership Research Institute, recognized as one of the leading management consulting firms specializing in leadership development and assessment. An active writer and researcher Smith, whose articles have appeared in numerous publications, was a contributor to the books
The Leader of the Future
and
The Organization of the Future
.

Table of Contents
| | | |
| --- | --- | --- |
| | | |
| | Foreword by Steven M Bornstein | xiii |
| | | |
| | Introduction | xvii |
| | | |
| | PART ONE: Introducing the Taboos | |
| 1 | Taboos and Leadership | 3 |
| 2 | Secret 1: We Know What Leadership Looks Like (But We Don't Know What It Takes) | 13 |
| | | |
| | PART TWO: Taboos of Persuasion | |
| 3 | Secret 2: Charisma Shouldn't Make a Difference (But It Does) | 31 |
| 4 | Secret 3: Real Leaders Don't Play Politics (They Take It Very Seriously) | 43 |
| 5 | Secret 4: Women Make Better Leaders (When That's What They Really Want to Do) | 55 |
| | | |
| | PART THREE: Taboos of Position | |
| 6 | Secret 5: The Double Standard Is for Cavemen (and the Corner Office) | 69 |
| 7 | Secret 6: Thou Shalt Not Play Favorites with Friends and Family (Except When It Makes a Lot of Sense) | 81 |
| 8 | Secret 7: A Leader's Fundamental Duty Is to Groom a Successor (But It Hurts Like Hell) | 91 |
| | | |
| | PART FOUR: Taboos of the Person | |
| 9 | Secret 8: Leaders Need to Demonstrate Work-Life Balance (No Problem; Work Is Their Life) | 105 |
| 10 | Secret 9: Blatant Self-Interest Is Dangerous (in Followers, Not Leaders) | 119 |
| 11 | Secret 10: It's Lonely at the Top (But Leaders Wouldn't Have It Any Other Way) | 129 |
| 12 | Our Taboos Are Exposed, So Now What? | 139 |
| | | |
| | References | 153 |
| | About the Author | 155 |
| | Index | 157 |

Find Items On Similar Subjects

12
: The Elements of Great Managing