Leadership the Hard Way
: Why Leadership Can't Be Taught - And How You Can Learn It Anyway
Dov Frohman with Robert Howard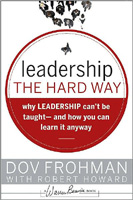 Format:
Paperback, 160pp.
ISBN:
9781119116585
Publisher:
Jossey-Bass
Pub. Date:
March 31, 2008
Average Customer Review:

For Bulk Orders Call: 626-441-2024

Description and Reviews
From
The Publisher:
Few subjects have captivated the business world in recent years more than leadership. Yet at the very moment we are seeing so many efforts to teach leadership, we are also experiencing widespread and continuous failures of leadership—and not just in business but in politics, education, and other institutions of modern society. The reason for this disconnect, says Dov Frohman, is that most of the conventional wisdom about leadership today is, while not wrong exactly, surprisingly irrelevant to the true challenges and dilemmas of leading in today's world. While so many of the articles, books, and programs on the subject maintain that leadership is largely a matter of technique or a set of skills that can be taught, Frohman believes that precisely the opposite is the case: learning how to lead is more in the nature of cultivating personal wisdom than it is of acquiring technical skills.
In this book, Frohman—iconoclastic innovator and founder of Intel Israel—and coauthor Robert Howard present a method of living and working that can truly facilitate the learning of leadership. Their method shows how to go against the current, fight conventional wisdom, and embrace the unexpected. It is about trusting oneself and valuing?intuition, principles, and imagination as much as hard skills and analysis. Frohman combines his counterintuitive ideas with experiences from his own background—from hiding out during the Nazi occupation of Holland as a child to becoming a leading innovator in the semiconductor industry—to show how readers can build their own leadership abilities. A leader's values and personality, he ultimately reveals, are the only sure source of stability in a world of continuous change.

Reviews
"If leadership is defined by the number and quality of followers, and by their ability to do better than they—or anyone else—thought possible, Dov Frohman's career is the epitome of leadership. This book portrays his style—pragmatic, unassuming, persistent—in a genuine and entertaining way. Reading it is like going along for the ride."
—Andy Grove, former CEO, Intel Corporation and author, Only the Paranoid Survive
"Dov Frohman and Robert Howard say that leadership cannot be taught—at least not in classes and slides—but it can be learned, especially in turbulent times, with brilliance and open-spiritedness.?Our best evidence is Frohman himself, whose fascinating decisions—as computer scientist and pioneer CEO—stud this stimulating, practical, elegant book."
—Bernard Avishai, contributing editor, Harvard Business Review and author, The Hebrew Republic: How Secular Democracy and Global Enterprise Will Bring Israel Peace At Last
"Leadership the Hard Way reads like a report from the front by a solider who is a hero. A must-read for leaders in today's tough and uncertain economy."
—George Stalk, senior partner, The Boston Consulting Group and author, Hardball: Are You Playing to Play or Playing to Win?
"In a highly personal style, yet with nuanced insight and useful principles, Frohman and Howard expertly navigate the necessary tensions of leading on the edge: how to be both an insider and an outsider, stay true to a vision yet listen to dissent, see things differently in order to do things differently. I could not put this book down."
—John Seely Brown, former chief scientist, Xerox Corporation and former director, Xerox PARC; coauthor, The Social Life of Information and The Only Sustainable Edge

About the Authors
Dov Frohman
, a pioneer of the global corporation, is the founder and former general manager of Intel Israel—and—widely respected as a leader and innovator in the worldwide semiconductor industry.
Robert Howard
is a former senior editor of the
Harvard Business Review
. A veteran writer on work, technology, and management, he is the author of Brave New Workplace and the editor of The Learning Imperative: Managing People for Continuous Innovation.

Find Items On Similar Subjects

Leadership Can Be Taught
: A Bold Approach for a Complex World