The Six Secrets of Change
: What the Best Leaders Do to Help Their Organizations Survive and Thrive
Michael Fullan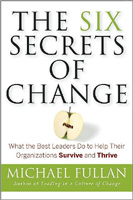 Format:
Paperback, 176pp.
ISBN:
9781118152607
Publisher:
Jossey-Bass
Pub. Date:
November 22, 2011
Average Customer Review:

For Bulk Orders Call: 626-441-2024

Description and Reviews
From
The Publisher:
It is commonly acknowledged that successful organizations adjust quickly and intelligently to shifts in consumer tastes, political climate, and economic opportunity. But how are some able to succeed at change while so many others fail??In
The Six Secrets of Change
, Michael Fullan lays out key factors that allow an organization to sustain meaningful change.
In this book Fullan explores essential lessons for business and public sector leaders for surviving and thriving in today's complex environment. He draws on his acclaimed work in bringing about large-scale and substantial change in education reform in both public school systems and universities, as well as engaging in major change initiatives internationally. The
Six Secrets of Change
is filled with lessons that are insightful, actionable, and concisely communicable. These lessons are "secrets" not because there is a conspiracy to hide them from public view, but because they are often difficult to grasp in their deep meaning, and challenging to appreciate and act on in combination. Fullan makes these so-called secrets accessible and useful and offers illustrative examples from a variety of businesses, health organziations, and public education systems.
The author reveals what it takes to increase the chances of bringing about deep and lasting change and shows how misleading and dangerous it sometimes is to take advice from seemingly successful organizations. His secrets are simple but profound:
• Collegiality cannot be left to chance—it must be deliberately cultivated.
• Long-range plans must allow for the possibility of unknown opportunities.
• Employees must be developed and nurtured.
• Learning opportunities must be offered frequently.
• Leadership potential must be developed at all levels.
• And positive pressure must be inescapable.
Fullan convinces us that a leader who attends to all these things will have an organization that is constantly learning, growing, and thriving.

Reviews
"Fullan has an uncanny ability to produce what is needed at the time it is needed. The six secrets are based in theory, grounded in practice, powerful in their relationship to each other, and described in ways that enable deep understanding. It is a refreshing change from the surface lists of leadership and change ideas that all too often permeate education and business literature."
—Vicki Phillips, director of education, Bill & Melinda Gates Foundation
"This book simultaneously clarifies, synthesizes, and challenges. Anyone in a management position will find it both very entertaining and full of wisdom."
—Sir Michael Barber, former head, Tony Blair's Policy Delivery Unit
"The
Six Secrets of Change
is a must for anyone who thinks about leadership, aspires to be a great leader, or thinks they are already an expert on the subject. Fullan takes on some sacred cows, and advances a remarkable framework for all us who seek 'to be the changes we seek in the world.' Truly and deeply inspirational."
—Charles Pascal, executive director, Atkinson Foundation
"One of the best books I have read in a long, long time. The
Six Secrets of Change
is insightful, challenging and authentic. Michael Fullan has a unique ability to bring the theory and practice of leadership together in a way that truly resonates. All those who are grappling with the challenges of leadership in complex organizations should read this book."
—Steve Munby, chief executive, National College for School Leadership, England
"Michael Fullan is one of the world's leading exponents on managing change.
The Six Secrets of Change
is a further brilliant contribution. These may be secrets but what is described can be accomplished by leaders at every level."
—Brian J. Caldwell, managing director, Educational Transformations Pty. Ltd.

About the Author
Michael Fullan
is professor emeritus of the Ontario Institute for Studies in Education of the University of Toronto. He currently serves as special advisor in education to the premier of Ontario. Recognized as a worldwide authority on organizational change, he is engaged in training, consulting, and evaluating change projects around the world. Fullan is the author of Leading in a Culture of Change and Turnaround Leadership.

Find Items On Similar Subjects

Change Leader
: Learning to Do What Matters Most

Our Iceberg Is Melting
: Changing and Succeeding Under Any Conditions