Up the Organization
: How to Stop the Corporation from Stifling People and Strangling Profits
Commemorative Edition
Robert L. Townsend with foreword by Warren Bennis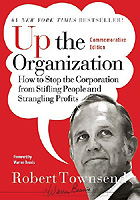 Format:
Hardcover, 208pp.
ISBN:
9780787987756
Publisher:
Jossey-Bass
Pub. Date:
May 25, 2007 Commemorative Edition
Average Customer Review:

For Bulk Orders Call: 626-441-2024

Description and Reviews
From
The Publisher:
Although it was first published more than thirty-five years ago,
Up the Organization
continues to top the lists of best business books by groups as diverse as the American Management Association, strategy+business (Booz Allen Hamilton),
LeadershipNow
and The Wharton Center for Leadership and Change Management.
This commemorative edition offers a new generation the benefit of Robert Townsend's timeless wisdom as well as reflections on his work and life by those who knew and worked with him. This groundbreaking book continues to remind us not to get mired in all those sacred organizational routines that stifle people and strangle both profits and profitability.
In today's climate of seemingly endless incidents of corporate corruption, government fraud, and personal scandals, Up the Organization is more relevant than ever. Many of Townsend's observations are as witty as they are wise. "There's nothing fundamentally wrong with our country except that the leaders of all our major organizations operate under the wrong assumptions." "One of the most important tasks of a manager is to eliminate his people's excuses for failure." "If you have to have a policy manual, publish the Ten Commandments."
In addition to the book's advice that is striking in its candor, spontaneity, and integrity, this new edition includes essays from such leaders as James O'Toole, Bob Davids, and Robert Gottlieb, as well as a never-before-published transcript of Townsend's Conference Board speech: "Townsend's Third Degree in Leadership."
Read
Up the Organization
and discover why Robert Townsend served as role model for a generation of corporate activists.

Reviews
"Townsend shouldn't just be read, he should be memorized."
—Tom Peters
"The sagest (and even most outrageous) book ever written about how business should be run."
—Harper's Magazine
"Bob Townsend's words still ring true, truer than they seemed almost 40 years ago."
—Warren Bennis
"Robert Townsend's book continues to light up the business world with straightforward and practical management advice that is as pertinent today as when originally published. A must-read for all managers!"
—Ray Davis, president and CEO, Umpqua Holdings Corporation
"Townsend proves that the best business wisdom is timeless. In an era filled with business buzzwords and ethical misdirections, Townsend's bluntness makes for refreshing and hilarious reading for the next crop of CEOs."
—Ben Casnocha, chairman, Comcate, Inc., author, My Start-Up Life


Reader's Index
Send us your favorite quotes or passages from this book
.
• "Most people in big companies today are administered, not led. They are treated as personnel, not people." Pg. 63

About the Author
Robert Townsend
(1920-1998) drew upon his early experiences as a banker at American Express Co. to redirect Avis Rent-a-Car as president and chairman. Under his leadership, Avis experienced a celebrated turnaround, fueled by by the "We Try Harder" advertising campaign. Townsend also worked as an executive at 20th Century Fox and was director at several companies, including Dun and Bradstreet and Radica Games. Townsend was a celebrity in his own right, and a frequent lecturer and talk-show guest.

Table of Contents
| | | |
| --- | --- | --- |
| | | |
| | Contents: Commemorative Edition | v |
| | Foreword by Warren Bennis | vi |
| | Publisher's Note | xi |
| | | |
| | Robert Townsend's Cure for Management Heartburn by Jim O'Toole | xiii |
| | How Robert Townsend Talked Me out of Getting an MBA by Bob Davids | xvii |
| | Up the Publisher: On Editing Robert Townsend by Robert Gottlieb | xxii |
| | | |
| | Contents: Original Edition | xxxi |
| | Up the Organization, Original Edition | 1 |
| | | |
| | Appendix A:Townsend's Third Degree in Leadership | 161 |
| | Appendix B: No Reserved Parking: The Guerrilla Life of Robert Townsend by Robert Townsend Jr. | 170 |

Customer Reviews
Write your own online review
.

Still True
April 2, 2008
Reviewer: Keith Pratt from Columbus, OH United States
After all these years and countless books on management, Townsend's book is still the classic reference. The key for Townsend are three words: Justice, Fun and Excellence. Having worked in various organizations large and small, for profit and non-profit, Townsend's observations are still relevant and worth reading.
The book is laid out in succinct easy to read chapters without a wasted word. The ideas are clear, entertaining, and VERY thought provoking. For example, Townsend sums up one of the most cherished corporate badges, assigned parking, this way: Get rid of it. If you are so bloody important, be the first one at work each morning.
Admittedly, this book is not for everyone. If you are a manger who is interested only in yourself and see your peers as an enemy to be counquered or at least neutrlized, then this book will seem naieve, unrealistic, and even silly. On the other hand, if you want to really make a lasting difference in your organization, enjoy thinking outside the box whether it is your thinking or the thinking of others, love encouraging team efforts, and feel ready to embrace one of the greatest intellectual challenges of your life, then this is the book for you.

Find Items On Similar Subjects

Reinventing Leadership
: Strategies to Empower the Organization