The Noticer
Sometimes, all a person needs is a little perspective.
Andy Andrews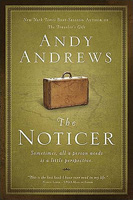 Format:
Hardcover, 176pp.
ISBN:
9780785229216
Publisher:
Thomas Nelson
Pub. Date:
April 28, 2009
Average Customer Review:

For Bulk Orders Call: 626-441-2024

Description and Reviews
From
The Publisher:
A new story of common wisdom from the bestselling author of
The Traveler's Gift
Orange Beach, Alabama is a simple town filled with simple people. But like all humans on the planet, the good folks of Orange Beach have their share of problems - marriages teetering on the brink of divorce, young adults giving up on life, business people on the verge of bankruptcy, as well as the many other obstacles that life seems to dish out to the masses.
Fortunately, when things look the darkest - a mysterious man named Jones has a miraculous way of showing up. An elderly man with white hair, of indiscriminate age and race, wearing blue jeans, a white T-shirt and leather flip flops carrying a battered old suitcase, Jones is a unique soul. Communicating what he calls "a little perspective," Jones explains that he has been given a gift of noticing things that others miss. "Your time on this earth is a gift to be used wisely," he says. "Don't squander your words or your thoughts. Consider even the simplest action you take, for your lives matter beyond measure…and they matter forever."
Jones speaks to that part in everyone that is yearning to understand why things happen and what we can do about it.
Like
The Traveler's Gift
,
The Noticer
is a unique narrative is a blend of fiction, allegory, and inspiration. Gifted storyteller Andy Andrews helps us see how becoming a "noticer" just might change a person's life forever.

Reviews
Bestselling inspirational writer and speaker Andrews (
The Traveler's Gift
) again blends fiction, allegory and inspiration and seasons it with a dash of autobiography. The result is a readable little tale of a mysterious old man named Jones-"just Jones, no mister"-who shows up in the lives of people in crisis. Jones brings the gift of perspective-he "notices" alternative ways to think about things. Some of what he says is common sense: "yes, sir" works better than "I guess." Some of what he says counters received wisdom: do sweat the small stuff, because little things can make a big difference as surely as brushstrokes make up a masterpiece. The narrator "Andy" is personable and appealing, and Jones is mysterious and brusque enough not to be a cloying Pollyanna. The title is awkward and not everyone likes motivational books, but many readers do. Andrews brings a track record, wordsmith skills and, best of all, an imagination. (Apr. 28) Copyright © Reed Business Information, a division of Reed Elsevier Inc. All rights reserved.
—Publishers Weekly


Reader's Index
Send us your favorite quotes or passages from this book
.
• "So how does one become a person whom other people want to be around? Let me make a suggestion. Ask yourself this question every day: 'What is it about me that other people would change if they could?'"
Thinking for a moment, I had a question of my own. "Jones, what if I get an answer about something that I don't want to change?"
The old man tittered and replied, "The question wasn't about you in the first place. The question was, what would other people change about you if they could?"
Sensing my uncertainty, he explained, "Look, son, I'm not saying that you should live your life according to the whims of others. I am simply pointing out that if you are to become a person of influence—if you want people to believe the things you believe or buy what you are selling—then others must at least be comfortable around you. A successful life has a great deal to do with perspective. And another person's perspective about you can sometimes be as important as your perspective is about yourself." Pg. 15

About the Author
Andrews lived a relatively normal life until the age of nineteen, when both his parents died—his mother from cancer, his father in an automobile accident. "I took a bad situation and made it much worse," Andrews says with a rueful smile, referring to choices he made during this tragic period of his life. Within a span of several years, the young man found himself literally homeless ("before that was even a word!" he says), sleeping occasionally under a pier on the gulf coast or in someone's garage.

It was at that time when Andrews asked the question that would focus his search for what would ultimately affect millions of people. The question? "Is life just a lottery ticket, or are there choices one can make to direct his future?" To find the answer, he first went to the library. There, over time, he read more than two hundred biographies of great men and women. How did they become the people they were? he wondered. Were they simply born this way? Or were there decisions made at critical junctures in their lives that led to such success? The young Andrews finally determined that there were seven characteristics that each person had in common. "What will happen," he mused, "if I study these seven common denominators and harness them in my own life?"
The rest is history. "The Seven Decisions," as he calls them, were the engines used to carry Andrews' life in a different direction. And twenty-plus years later, these same Seven Decisions became the outline around which he built the story of
The Traveler's Gift
and the basis of his PBS television Special.

Find Items On Similar Subjects

The Traveler's Gift
: Seven Decisions that Determine Personal Success