Toy Box Leadership
: Leadership Lessons from the Toys You Loved as a Child
Ron Hunter Jr. and Michael E. Waddell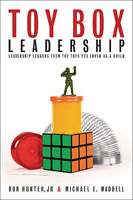 Format:
Paperback, 208pp.
ISBN:
9781595553287
Publisher:
Thomas Nelson Publishers
Pub. Date:
July 2008
Average Customer Review:

For Bulk Orders Call: 626-441-2024

Description and Reviews
From
The Publisher:
What can LEGOS teach you about building your business through connection?
How can Slinky Dog demonstrate the value of patience when you're growing your organization?
What has every little boy learned from his Little Green Army Men that he can use in business strategy?
Whether you are an executive, a manager, or a parent, in
Toy Box Leadership
you'll you will find the toy box a great place for lessons to successfully influence and lead others.

About the Author
Ron Hunter Jr.
serves as Executive Director, President & CEO of Randall House Publications in Nashville, Tennessee. He travels nationally as speaker doing leadership training and consulting. Ron also served in ministry both in Florida and Tennessee for 11 years. After enlisting, Ron later became an officer and during his time of serving completed the Army's Jump, Rigger, Air Assault, and Infantry training. He has been married to his college sweetheart Pamela since 1987, and they have two enjoyable kids, Michael and Lauren.
Michael E. Waddell
has years of experience as a minister, educator, motivational speaker and communication consultant. Michael has a Masters degree in Communications. He currently serves as the chairman of the board of directors of Randall House Publications, and his committee placement allows him to impact thousands of young people every year in matters that affect their leadership and spiritual development. Michael and his wife, Marianne, are the proud parents of three boys: Malone, Mack, and Manning.

Table of Contents
Introduction
ix
1
LEGO Bricks
Relationships • Building Begins With Connecting
1
2
Slinky Dog
Vision • Pull, Then Be Patient
21
3
Play-Doh
Mentoring • The Mold Makes the Man
39
4
Yo-Yo
Creativity • It Only Happens When You Let Go
55
5
Mr. Potato Head
Communication • The Right Face for the Right Place
75
6
Rubik's Cube
Ethics • Making the Right Turn
91
7
Rocking Horse
Efficiency • All Show and No Go
111
8
Little Green Army Men
Strategy • Success Is in the Setup
129
9
Lite-Brite
Message • Illuminate to Communicate
147
10
Weebles
Endurance • Staying Down Is Not an Option
165
Conclusion: Putting Away the Toys
181
Notes
185
Acknowledgments
191
About the Authors
193