Top Ten Ways to Be a Great Leader
Hans Finzel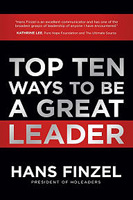 Format:
Hardcover, 224pp.
ISBN:
9780781414623
Publisher:
David C. Cook
Pub. Date:
April 1, 2017
Average Customer Review:

For Bulk Orders Call: 626-441-2024

Description and Reviews
From
The Publisher:
Dr. Hans Finzel knows from personal experience the key success factors in every new leader's journey. He shows readers:
• The two most important words in a leader's vocabulary
• The skills a leader needs to communicate effectively
• Why today's effective leaders lead with vulnerability
• The contrast between servant leadership and slave leadership
• How to lead with both passion and humility
• The difference between making a mark and leaving a legacy
In this eminently practical book, new leaders in business, education, ministry, and the church will discover how to lead well and love what they do.
This book is about essential skills every leader should master.
1. "L" Is for Listen and Learn
2. "E" Is for Emotional Intelligence
3. "A" Is for Accessibility
4. "D" Is for Determination
5. "E" Is for Effective Communication
6. "R" Is for Resilience
7. "S" Is for Servant Attitude
8. "H" Is for Hands Off Delegation
9. "I" Is for Integrity
10. "P" Is for the Power of Humility

Reviews
Most leadership books have a short shelf life, but Hans' books endure the test of time. This is a great read on servant leadership.
—Dr. Rick Warren, Saddleback Church, The Purpose Driven Life
I have had the privilege of working up close and personal with Hans and Donna Finzel. I believe the tools in this book are perfect for those in executive leadership. But I also know that this is a perfect Leadership 101 for the new entrepreneur just starting out and learning to be a leader for the first time.
—Kathrine Lee, Pure Hope Foundation and The Ultimate Source
"Are you ready to IGNITE your leadership game to the next level? Then this book is a must read. Hans Finzel speaks from a huge reservoir of real life leadership experience when he maps out the ten essential skills that every effective leader must master. Whether you are just getting started or have decades of experience, I highly recommend the leadership wisdom that falls out of every page of this exciting new book."
—John Lee Dumas, Host of Entrepreneur on Fire and creator of The Freedom Journal and the Mastery Journal
When Hans Finzel wrote his bestselling book, Top Ten Mistakes That Leaders Make, I thought it was one of the greatest leadership books of all time. I have been greatly impacted by it over the years! His newest book, Top Ten Ways To Be A Great Leader, is destined to be a best seller because it is down to earth practical and based on Hans's many years of leadership experience. I highly recommend it to anyone interested in becoming a great leader or wants to develop leaders to make a difference in a world that is desperate for character based leadership.
—Stan Toler, Bestselling Author & Speaker
Hans' lessons on leadership and personal development always come from a place of principle. And principles are timeless. That's why his books and teaching will be part of my life today and for a long time into the future. I highly recommend this latest contribution to great leadership instruction.
—Curt Beavers, International Entrepreneur

About the Author
Dr.
Hans Finzel
is an author, a speaker, and a trusted authority in the leadership field. He is the author of ten books, including the international bestseller The Top Ten Mistakes Leaders Make. With a doctorate in leadership studies from Fuller School of Intercultural Studies, Finzel is a globally respected teacher. After serving twenty years as president and CEO of WorldVenture, he now leads the nonprofit training ministry HDLeaders. He and his wife, Donna, have four adult children and live in Colorado.