The Trusted Executive
: Nine Leadership Habits that Inspire Results, Relationships and Reputation
John Blakey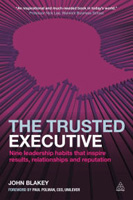 Format:
Paperback, 240pp.
ISBN:
9780749474225
Publisher:
Kogan Page
Publication Date:
April 28, 2016
Average Customer Review:

For Bulk Orders Call: 626-441-2024

Description and Reviews
From
The Publisher:
The topic of trust has been a much discussed issue since the recent global financial crisis. However, the business world's response has lagged behind, and trust in organizations and corporations remains low. This book helps leaders create a trust-building strategy for a globalized, technology-enabled, diverse, and increasingly skeptical world.
Through coaching exercises and interviews with CEOs, combined with academic research,
The Trusted Executive
provides the tools to build trust through three key areas: ability, integrity, and benevolence. It explains how to develop and measure organizational trust, handle trust violations, and manage a constantly changing work environment and diverse workforce. Moving from self to organizational transformation, chapters show leaders how to set their organizations on a path to achieving a better reputation, more sustainable operations, and creating a structure and ethos that supports trustworthy behavior on all levels.

Reviews
"John hits the mark with this book: the world is intuitively reaching out for leadership that behaves with integrity and appropriate humility, whilst exhibiting the necessary foresight and confidence to help their organisations and communities be successful with a wider responsible vision. John's practical and inspired approach offers a structured framework to help anyone succeed in this way - backed up by enough studies and evidence to show this approach is real. I can see this will reflect the defining behavioural style for leadership very quickly."
—Martyn Proctor, Executive Director Ernst & Young
"This inspiring book sets out a leader's individual responsibility for driving the actions that create organisational trust. It is highly readable and addresses both the theory and the practice of the trust-building challenge. The measures John recommends are highly practical and well within the capability of all business leaders who are determined to leave a positive legacy."
—Jane Frost CBE, CEO Market Research Society
"The Trusted Executive is an invaluable forward thinking handbook for every existing or aspiring leader. John clearly defines and develops key attributes for leaders the world deserves. The reader is coached through theoretical and practical exercises and examples which demonstrate both significant personal experience and considerable depth of research."
—Gina Lodge, CEO The Academy of Executive Coaching
"This is a well-researched and thought-provoking book on the concept of trustworthiness and its importance to modern organisations in a world of ever-increasing transparency. Most importantly, it asks searching questions of leaders and sets out a challenging, yet practical series of actions that can, if done together and with consistency, build genuine trust across and beyond an organisation. I would thoroughly recommend to leaders in all sectors - it's time to take the red pill."
—Heath Monk, CEO Future Leaders Trust
"What this bold and thought-provoking book shows is that there is an urgent need to re-build trust through developing leaders that don't just 'talk the talk', but who also 'walk the talk"
—Paul Kehoe, CEO Birmingham Airport
"The red pill moment represents the choice between living the status quo or embracing a new reality. Well written, thought provoking and practical - here's to the nice guys!"
—Rob Edwards, Managing Director FARM Digital
"For this reviewer, the book was an interesting read but maybe it would not be fair to describe it as revolutionary but evolutionary. A good compendium of common sense that deserves wider distribution and implementation. We need more trust, genuine trust rather than meaningless corporate slogans and lip service. A book like this may yield some benefit to you. It might be transformational for the company that you work for – even though the pathway to total trust might be a rocky road."
—Darren Ingram Autamme.com

About the Author
John Blakey
is one of the UK's leading executive coaches and a member of the CEO coaching faculty at Manchester Business School. Vistage International and the National Health Service (NHS). He is the author of Challenging Coaching (Nicholas Brealey Publishing) and The Trusted Executive (Kogan Page) and is Board Chair and Speaker with Vistage, the world's largest CEO membership organization. During the past 12 years, he has helped over 120 CEOs / MDs from 22 different countries to acheive their goals, as well as Team GB / England sports coaches in rowing, cricket, diving and target shooting. In his own business career, John has been an awad-winning entrepreneur, FTSE100 international managing director and director of the Fast Track 100 technology consultancy, Team121, which was sold to Logica for £86m. He has an MBA from Aston Business School where he is currently studying for an executive doctorate.